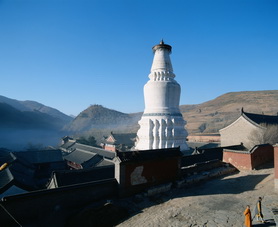 Mt. Wutaishan lies in Wutai County in Xinzhou Region, Shanxi Province. It is rated on both the list of the first group of national scenic spots designated by the State Council, and the list of the Top 10 scenic spots in Shanxi Province. It is as famous as Mt.Emeishan in Sichuan Province, Mt.Putuoshan in Zhejiang Province, and Mt.Jiuhuashan in Anhui Province, all of which are renowned as the four sacred Buddhist Mountains.
Taking up an area of 592.88 square kilometers, Wutai means "Five Terraces" in Chinese. Mt. Wutai is taken up by five peaks, each of which is as flat as terrace on top. Due to the high altitude, the climate is cool even in summer. Therefore, it is also called Mt. Qingliang, which means cool in Chinese, bringing to mind a refreshing refuge from summer heat.
The earliest temples of Buddhism were built in Mt. Wutai, making the mountain a natural museum of Chinese ancient architecture. Since the Eastern Han Dynasty, people have built diverse temples, sky-high pagodas and grand halls on Mt. Wutai. In Tang Dynasty, there are more than 300 temples in Mt. Wutai. Many of the temples were destroyed in history. At present, there are still 47 temples, out of which Foguang Temple and Nanchan Temple are the earliest wooden structure architectures in China. Magnificent sculptures, stone inscriptions, mural paintings and calligraphies in those temples are all with great artistic value.
Except for the great value in culture, Mt. Wutai also has remarkable sceneries. On the
East Peak, you can watch the sunrise and the sea of clouds. On the West Peak, you can admire the moon at night. On the North Peak, you can view the beautiful snowscape in winter and South Peak is where you can watch clusters of luxuriant flowers. In addition, Middle Peak is the best place to view the astronomical phenomena.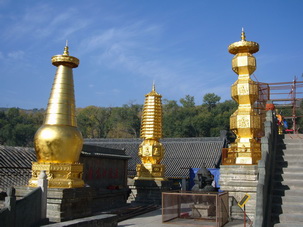 Mt. Wutai also has great value in geology. As one of the earliest lands rising from the sea, the formation of Mt. Wutai dates back to Archaean Era, which is 2,600,000,000 years ago. In Sinian Period, the area experienced upheaval movement which formed North China Plain. In Quaternary Period, glaciers covered Mt. Wutai and leaves precious periglacial landform in the area. Strata of Mt. Wutai are typical and complete, with great value in geology study.
Marvelous mountains and cliffs are everywhere in Mt. Wutai, of which Calligraphy Cliff is one of the most famous. Calligraphies will appear on the cliff after people wiping it with wet cloth. The calligraphies disappear when the water is dry.