Updated: Mar 15, 2013 By: Admin
The history of kung fu dates back to the Xia Dynasty more than 4,000 years ago. Though the original form has evolved and branched out into hundreds of styles since then, Chinese culture has held on to this practice throughout the centuries and is still internationally renowned for martial arts. While top notch training facilities can be found in Shanghai and Beijing, martial arts academies in Chengdu are still few and far between. But, nevertheless, it's popularity is growing year by year. So if you're in the Panda City and want to pick up a few moves or just need an alternative to the gym for staying in shape, try one of these academies and learn how to kick it like Bruce Lee!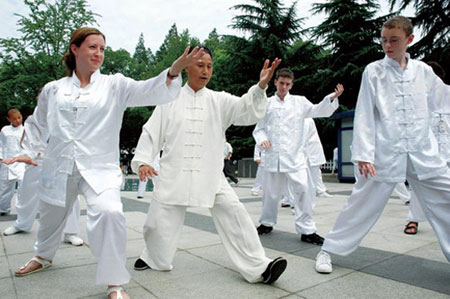 1) Chinese Wushu
Wushu is the general term used to describe all the various forms of Chinese martial arts: combat, fighting, weaponry and even forms of meditation. Surprisingly enough, Chengdu has very little options for training in Wushu, especially venues that cater to foreigners. But luckily there are a few options. Perhaps the best one, due to its professional reputation, is the Chengdu Sport University (CSU). This is your best bet if you want to cover some of the most popular schools of ancient Chinese martial arts, such as Changquan, Nanquan, Taijiquan, sword-play, spear-play and Shanshou/Sanda (Chinese kickboxing). They also offer free accommodation for full-time students, can assist in visa support and specialize in small classes. If you're looking for something less intense or prefer private classes, you can speak with the school and arrange a schedule that better suits your needs.
Add: Chengdu Sports University (CSU), 2 Tiyuan Lu, Wuhou District, Chengdu
Tel: 86-28 8509 8011
Price: 20,000 RMB for full academic year or 12,000 RMB for half academic year. Short term/private classes can be negotiated with the school directly.
2) Tai Chi
Taijiquan, also known as Tai Chi, is often disregarded by fighting enthusiasts since there's no physical contact and slow motions. But that's no reason to completely write it off as ineffective. Hardcore fighters have claimed that Taijiquan has helped then with balance, breathing, flexibility and movement. Meanwhile, non-fighters practice this ancient art for relaxation, meditation, exercise and numerous other proven health benefits. No matter which side of the spectrum you fall on, taijiquan is not only an extremely well known martial art, but also a fun and enjoyable activity for people of all ages and fitness levels. Taijiquan masters rarely have schools or academies since it's usually taught along with other martial arts (as is the case at CSU). But if you want to solely focus on it, Mandarin Club offers classes with an English-speaking master. You can contact the language school directly to arrange for a private/group.
Add: Mandarin Club, 46 Renmin South Lu Section 4, Orchard Villa East, A1-1Jinyun Building, Chengdu
3) Mixed Martial Arts (MMA)
MMA¡¯s popularity has skyrocketed during the past decade due to the action packed knock-outs landed inside the UFC octagon. In fact, China held its first UFC event in Macau during November 2012, suggesting the country's desire to get more involved in the blossoming sport. Despite its progression, cage fighting is still relatively nonexistent to the average Chinese mainly due to its aggressive and violent nature. But not all hope is lost if you crave the adrenaline boost from the world's most physical sport. Zhuyou Academy offers an array of MMA classes focusing on Brazilian Jiu-jitsu (BJJ), Muay Thai and Judo (all of which are major pillars of MMA). The school's master has studied just about every martial art all over the world from Brazil to China and has a black belt in Taekwondo and BJJ. Classes are still aimed towards those in the beginner level and the facility is basic, but there are a few above average fighters if you're looking to spar. And if MMA isn't your cup of tea, the school offers some other classes like traditional Chinese Wingchun and self-defense.
Add: Zhuyou Academy, Room 25, 8F, Unit 3, Penglaiju Apartment, Jinxianqiao Lu, Chengdu
Opening hours: Self Defense: Mon and Wed, 19:30-21:00; MMA & Muay Thai: Tue, 19:30-21:00 and Sat 10:00-11:30; MMA Judo/BJJ: Thu 19:30-21:00 and Sun 10:00-11:30; Wingchun Fri 19:30-21:00
4) Japanese Martial Arts
The traditional Japanese martial art of Karate is very popular in the West and East alike, but other Japanese rooted fighting styles like Kendo (Japanese sword fighting) and Jiu-jitsu (the precursor to Brazilian Jiu-jitsu) are also becoming more practiced around the planet. If you're looking to sample a new kind of martial art away from the Chinese-influenced ones, then check out the Mugen Ryu Martial Arts Academy in southeastern Chengdu - it's the only place in town to practice Karate, Kendo and Jiu-jitsu. Despite being a little out of the way, the facility is quite modern in Chinese terms, the owner speaks fluent English and you can borrow equipment, which is an added luxury considering the bulky/heavy armor used in Kendo.
Add: Mugen Ryu Martial Arts Academy, 3F, Shaocheng Mansions, 98 Changshun Zhong Jie, Chengdu
Opening hours: Kendo: Mon-Fri, 19:30-21:30 and Sat-Sun, 13:00-17:30; Karate: Tues and Fri, 19:30-21:30 and Sun, 15:30-17:30; BJJ: Wed, 19:00-21:00
Source: echinacities