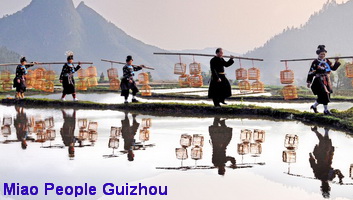 How to Book with Splendid China Tours?
----------------------------------------------------------------------------------------------------------
Your booking at Splendid China Tours is customer friendly without any forced commitment. Your booking will be exactly what you want, and you will know all details of your booking before you go. Submitting an inquiry at Splendid China Tours is not a commitment to book a trip. Tour booking will be confirmed with payment only when you are absolutely satisfied with your own personalized tour program.
Below 5 steps show how to book a tour with us, really simple and easy.
1. Send an enquiry
Browse our ready-made tours to select the one that suits you the most, then click the "inquire" button, fill out the form and submit us.
If none of the itineraries that matches your requirements and interests, or you already have a travel plan in mind, you can just fill in our "tailor-made itinerary" form, and let us custom your tour with exactly what you want.
2. Receive a quote
After receiving your online enquiry, one of our tour consultants will reply you by e-mail with a tentative tour plan with a good quotation based on the requirements in the enquiry. You will receive our response in one business day.
3. Free alteration
Upon your receipt of our tentative itinerary and quotation, please study it thoroughly. At this stage, should you have any further questions or requests, you may feel free to discuss all the details with your tour consultant by e-mail. We will be very pleased to make any alterations or amendments until you are completely satisfied with the tour plan.
4. Book with deposit
Book your tour with deposit which is 30% of the total tour cost. We accept payments by Western Union, wire transfer (bank transfer) and PayPal. You may email us your preferred method of payment, we will provide you the detailed instruction about the payment procedure. The balance payment is due in full 45 days ahead of your tour start date. If booking is made less than 45 days prior to the date your tour begins, full payment is required to be made once you confirm your booking.

5. Balance payment & enjoy tour
Make the balance payment in the stated time. We will send you the final "confirmation letter" with hotel list, local contact details, intra-flights schedules and some further suggestions/advice to help with your packing. Our polite and experienced guide and driver are ready to meet you at the airport of your entry city in China. You will be greeted and escorted to enjoy your dreamed China tour!


Terms and Conditions - Splendid China Tours
-----------------------------------------------------------------------------------------------------------------------------
The following Terms and Conditions are on the basis of the contractual relationship between you, our customers and us, Splendid China Tours. By booking a trip, you agree that you read, understood, and be bound by these Terms and Conditions, please read carefully these terms. Splendid China Tours has the right to modify or rescind the Terms and Conditions in whole, or in part at any time with or without notice.
Reservations
Payment
Tour Amendments
Cancellation & Refunds
Passport & Visas
Luggage Allowance
Insurance
Health Requirement
Complaints and Claims
Responsibility
Photography on travel
1. Reservations
A tour deposit of 30% of total price is required to secure a reservation. Balance payment is required 45 days prior to departure. For trips booked less than 45 days before departure, full payment is required immediately. Tour prices are per person and based on double occupancy. Failure to comply with the deposit and balance payment requirements may result in automatic cancellation of your reservations.


2. Payment
Splendid China Tours accepts three ways of payment.
1. PayPal
2. Bank Transfer
3. Western Union

For bookings made less than 30 days before departure, we only accept payment through Western Union (WU). Your travel consultant will send you the payment details when you book a trip.
Important notes about the tour cost and exchange rates:
The prices listed are based on the costs and exchange rates current at the time of inquiry. Splendid China Tours reserves the right to adjust rates without prior notice.
Reference exchange rate: please refer to
Bank of China EXCHANGE RATE

3. Tour Amendments
Alterations to your itinerary before your booking will be processed free of charge. Tour amendments after you have received booking confirmation will attract a fee of USD50 per request. All expenses incurred by alteration of the booking are the responsibility of the customers. All changes are subject to availability and cannot be guaranteed. To ensure travel safety and secure tours, Splendid China Tours reserves the right to amendments including altering, postponing and canceling tours due to air schedule or land transportation changes, and other events beyond our control make such alterations necessary. In this event, any of the increase or reduction of the tour cost will be recalculated and charged/ refunded accodingly. If the arranged tour has to be changed only due to the client's own wishes, he or she is supposed to pay for any additional cost in advance.


4. Cancellation & Refunds
If you must cancel your trip, please submit your cancellation in written form such as emails, fax and regular mails, phone calls and any other verbal cancellation requests are not accepted. Cancellation refunds will be calculated as of the date we receive your written cancellation.
The cancellation fee will be calculated as follows:
--------------------------------------------------------------------------------------------
30 days and more prior to trip departure USD300 per person
30 to 15 days prior to departure USD500 per person
14 to 7 days prior to departure 60% of the total tour price
6-4 days prior to trip departure 90% of the total tour price
Within 3 days prior to trip departure 100% of the full tour payment
No-show guests 100% of the full tour payment
Less than 35 days prior to departure of Yangtze Cruise 100% of Yangtze River Cruise payment
After trip begins No refund for any unused portion

Any cancellation fees imposed by third party service providers such as airlines, hotels, Cruise companies, railway companies, and restaurants etc., will be deducted from the money refunded.

5. Passport & Visas
All clients must carry a valid passport and have obtained the appropriate visas or permits at the commencement of travel. Please ensure your passport is valid for six months beyond the duration of the trip. It is your responsibility to ensure that you are in possession of the correct visas for your holiday. Splendid China Tours will assist you in applying for the appropriate passes required for traveling to sensitive areas in China (e.g. Tibet). Splendid China Tours accepts no responsibility or liability whatsoever for the failure of clients to obtain appropriate documentation.
6. Luggage Allowance
In accordance with regulations of the General Administration of Civil Aviation of China, the free baggage allowance within China is 20kg (44pounds) for the economy class, 30kg (66pounds) for the business class, and 40kg (88pounds) for the first class, plus limited carry-on luggage. Excess baggage charges are the sole responsibility of the customer. Regulations within China specify that all suitcases must have a locking device attached. Failure to follow this regulation may result in refusal by airport staff to load suitcases onto the aircraft.
7. Insurance
All tour products at Splendid China Tours include China Life Tourist Accident/Casualty Insurance. Due to its limited coverage, we strongly suggest you to purchase full coverage travel insurance from you country of origin. Your travel insurance must cover accidents, injury, illness and death medical expenses, including any related to pre-existing medical conditions, emergency repatriation and personal liability. We also recommend it covers cancellation, curtailment and loss of luggage and personal effects. Your acceptance of these terms and conditions will be treated as confirmation that every member of your party has such insurance.
Splendid China Tours can not be held responsible if you purchase an inadequate insurance or if you fail to notify your insurance company of any factors affecting your particular requirements for cover. All Splendid China Tours travelers are required to provide a copy of their medical insurance card prior to trip departure.


8. Health Requirement
Clients should take into account of all international travel risks and familiarize yourself with health requirements applicable to the areas they intend to visit. You are solely responsible for checking the safety and security conditions, vaccination, and other health requirements of governments in countries you are going to visit or transit. Travelers to Tibet are required to provide a doctor's certificate stating that the he/she is fit to travel and his/her blood pressure and heart condition are normal in case that the very high altitude have the possible effects on certain people.


9. Complaints and Claims
Shall you feel unsatisfied with any service we provided, you agree to notify your local tour guide or specified local representative or the suppliers right away of the situation so that we may promptly attend to the matter. In the event of a complaint or claim for compensation, you agree to inform us by email, regular mail, or facsimile in writing in English language within 15 days from the end of your tour. Relevant receipts and substantiating evidence must be attached to the letter of claim. Splendid China Tours will not be liable for any claims made later than 15 days after the date of tour completion.
10. Responsibility
The responsibility of Splendid China Tours is limited. Services provided in connection with our itineraries are rendered by suppliers acting as independent contractors and not as agents or employees of Splendid China Tours. Splendid China Tours shall not be held responsible for any wrongful or negligent acts or omissions by any supplier or other party not directly owned or controlled by Splendid China Tours, or by the failure of any equipments operated by any such supplier or other party they represent, and in consequence accept no responsibility for accidents, damages, baggage losses, and/or delays due to weather, acts of God, act of government or authorities, wars, strikes, criminal acts committed by third parties, theft, pilferage or to faults or defaults of any company used for carrying out these tours.


Although Splendid China Tours anticipates no changes in the itineraries or accommodations, as shown herein, the right is reserved to make any changes with or without notice due to unforeseen circumstances that might become necessary in the best interest of the tour. In such cases any additional expenses must be borne by tourists.


Splendid China Tours reserves the right to accept any person as a member of any group at any time or to require any person to withdraw from a tour if his/her acts of behavior are considered offensive or incompatible with the comfort of other members.


Splendid China Tours is not responsible for expenses incurred by you in preparing for the trip (e.g. non refundable advance purchase air tickets, visa fees, equipment, medical expenses, etc.) or for any necessary additional travel arrangements should you embark from home before the group departure date.


11. Photography on travel
Splendid China Tours reserves the right to take and publish photographs during the operation of any tour or part thereof. By booking a reservation with Splendid China Tours., tour members agree to allow their image to be used in such photographs. Tour members who prefer that their image not to be used are asked to identify themselves to their tour escort at the commencement of their tour.

Upon receipt of our clients' deposit, it indicates our clients have understood and accepted the above-mentioned terms and conditions of Splendid China Tours' services.