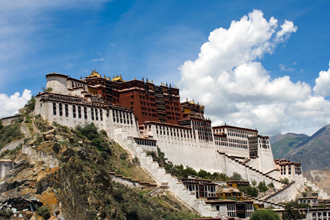 Destination Tibet

Known as the "Roof of the World" at an average altitude of about 4,500 meters (14,763.8 feet), Tibet has spectacular and fascinating snow-capped peaks, high mountains, thrilling glaciers, billowy wild rivers, highland turquoise lakes, vast pastoral areas with unique wildlife, magnificent monasteries, and above all, the Tibetan people and their overwhelming cultures make Tibet one of the most fascinating destination on the planet - this is Tibet!
Tibet is no doubt one of people's most wanting places to visit in the world. Here are some of the must-see sights and monuments of Tibet in the Himalayas: a holy circuit (Kora) around the
Jokhang Temple
on the
Barkor Street
, get awe of the majesty of the
Potala Palace
on the Red Hill in Lhasa, pay a visit to the "Big Three" Monasteries in Lhasa, the
Drepung
,
Sera
and
Ganden Monastery
, get inspired by the marvel
Kumbum Stupa
and
Pelkor Chode
in Gyantse by the Kyichu River, visit Panchen Lama's seat the
Tashilunpo Monastery
and enjoy bargaining in the free market in Shigatse, walk up in the morning sun at the holy
Nam Tso Lake
, the largest saltwater lake in the world, driving on the Sino-Nepal Friendship Highway to view the magnificent
Mt. Everest
standing at the world's highest monastery -
Rongbuk Monastery
, taking a three-day
Mt. Kailash Kora
alongside local Tibetan, and have a cup a butter tea in a
local Tibetan's home
.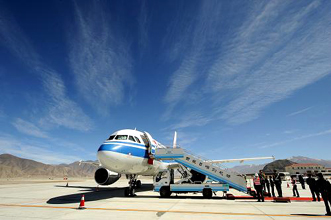 The transportation in Tibet has changed and been improved a lot especially during the past three decades. Now Tibet can be accessible by plane, train and by bus. The most fast and convenient way is getting Lhasa, Tibet by air. Lhasa's Gonggar Airport has flight links other major cities on the Chinese mainland such as Beijing, Xi'an, Chengdu, Kunming, Guangzhou, Chongqing, Shanghai, and Kathmandu in Nepal. Among all the cities,
Chengdu is the most important hub
which has the most flights to Lhasa on a daily basis. Most travelers choose Chengdu as their gateway to Lhasa, Tibet. Traveling to Tibet by overland trips is getting popular for these who have a longer and flexible travel plan. There are five highways stretching into Tibet from the Chinese Mainland and Nepal, namely,
Sichuan -- Tibet Highway
,
Yunnan -- Tibet Highway
,
Qinghai -- Tibet Highway
,
Xinjiang -- Tibet Highway
, and the
Sino-Nepal Friendship Highway
from Lhasa via the border town Zhangmu/Dram to Kathmandu,Nepal.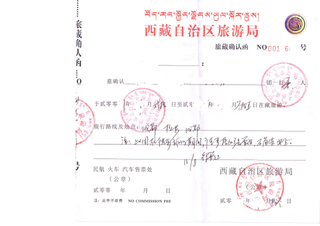 There are four documents required for foreign tourists who want to travel to Tibet. They are:
01).
Chinese Visa,
which you can apply for in the Chinese Embassy or Consulate General in your country (for these go from the Chinese mainland);
02). Tibet Entry Permit
, which is also widely called as the 'TTB Permit', issued by Tibet Tourism Bureau (a must document to enter Tibet regardless the types of transportation taken);
03). Alien's Travel Permit
(PSB Permit), is for the 'closed' areas in Tibet, which can be obtained after your arrival in Tibet;
04). Military Permit
, which is for the remote military sensitive areas in Tibet. As a fully licensed tour operator,
Splendid China Tours
is able to assist you to process all the above mentioned documents if you book a tour with us.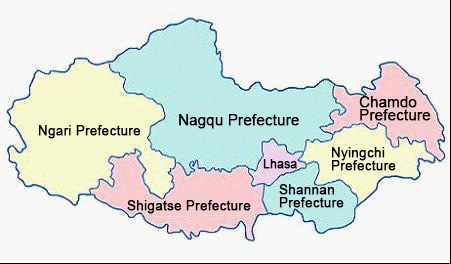 Tibet is home to the Tibetan people and borders on Nepal, Indian, Burma (Myanmar), Bhutan and Sikkim. Tibet adjoins Qinghai and Xinjiang on the north, Sichuan and Yunnan on the east. Today's Tibet is consisted of the capital city Lhasa, and other six regions of Shigatse, Shannan (Lokha), Nagri, Nagqu, Ningchi and Chamdo. Most inhabited areas are situatied in Lhasa, Shigatse, Shannan and Nyingchi. Nagri and Nagqu are sparsely populated. The traditional
Tibetan culture realm
also
includes
the
Kham in East Tibet
consisting of Chamdo, part of Yunnan and Sichuan, and
Amdo in Northeast Tibet
including part of Gansu and Qinghai.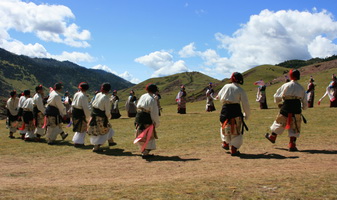 Tibetan culture developed under the influence of a number of factors. Tibet's specific geographic and climactic conditions - its altitude, short growing season, and cold weather- have encouraged reliance on pastoralsm, as well as the development of a different cuisine from surrounding regions. Contact with neighboring countries and cultures- including India, China, and Mongolia-have influenced the development of Tibetan culture, but the Himalayan region's remoteness and inaccessibility have preserved distinctive local influences. Buddhism has exerted a particularly strong influence on Tibetan culture since its introduction in the 7th Century. Art, literature, and music all contain elements of Buddhist religion, and Buddhism itself has adopted a unique form in Tibet, influenced by the Bon tradition and other local beliefs.

Tibetan Art is the synonym of the art of Tibet and the Himalayan kingdoms which is heavily influenced by Tibetan Buddhism. One might say that Tibetan art is as brightly hued as the five-colored flags that represent blue sky, white clouds, red fire, green grass and yellow earth. Visitors to Tibet are invariably impressed by the local people's power of imagination and boldness of expression in their artistic forms. Religious doctrines have not stifled their creativity. Rather, they have given wings to their imagination. Talent, gifted by Heaven and Earth, shines forth in all their works of art, from architecture to clothing and decorations, from furniture to articles of daily use.