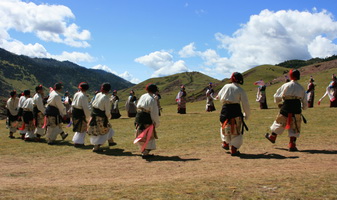 Tibetan culture developed under the influence of a number of factors. Tibet's specific geographic and climactic conditions - its altitude, short growing season, and cold weather- have encouraged reliance on pastoralsm, as well as the development of a different cuisine from surrounding regions. Contact with neighboring countries and cultures- including India, China, and Mongolia-have influenced the development of Tibetan culture, but the Himalayan region's remoteness and inaccessibility have preserved distinctive local influences. Buddhism has exerted a particularly strong influence on Tibetan culture since its introduction in the 7th Century. Art, literature, and music all contain elements of Buddhist religion, and Buddhism itself has adopted a unique form in Tibet, influenced by the Bon tradition and other local beliefs.

Tibetan Art is the synonym of the art of Tibet and the Himalayan kingdoms which is heavily influenced by Tibetan Buddhism. One might say that Tibetan art is as brightly hued as the five-colored flags that represent blue sky, white clouds, red fire, green grass and yellow earth. Visitors to Tibet are invariably impressed by the local people's power of imagination and boldness of expression in their artistic forms. Religious doctrines have not stifled their creativity. Rather, they have given wings to their imagination. Talent, gifted by Heaven and Earth, shines forth in all their works of art, from architecture to clothing and decorations, from furniture to articles of daily use.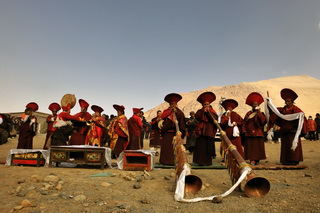 Tibetan Festivals
Tibetan festivals have been deeply influenced by Buddhism. They either have strong religious aroma or they are completely religious. Throughout history, under the harsh natural environment and hard working conditions, the people living on the snowy land yearned for a better life through their own efforts, with the God's mercy and with the Buddha's protection. It is the festivals that offer opportunities for them to express their prayer to deities, Buddha and nature, during which they amuse the Gods and themselves as well.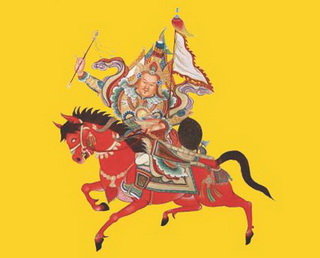 Tibetan Literature
In Tibetan literature, the Epic of King Gesar represents the highest achievement. It is the longest epic in the world, the length even exceeding the total of the five most famous epics in the world, that is, Babylonian Gilgamesh, Greek Odyssey and Iliad, Indian Ramayana and Mahabharata.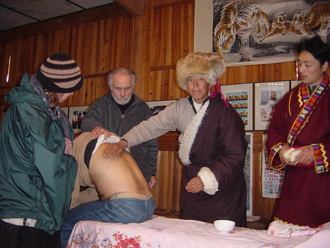 Tibetan Medicine
Tibetan, Chinese and Mongolian medicines are the three indispensable treasures in the Chinese medical system. Tibetan medicine integrates indigenous practices with the elements of other countries. Tibetan medicine has a history of 2000 years. According to the historical record, several centuries ago, during the lengthy course of fighting the nature and disease by Tibetans, some part of fauna and flora and mineral products are found to deliver people from pains. They thought, "poison could be used as an antidote to poison". Then they developed the medicinal knowledge of stanching bleeding by using butter.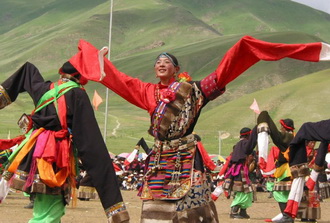 Tibetan Dance
As with many other ethnic minority groups in China, the Tibetan people are very adept at singing and dancing. Tibetan dances, mostly mixed with dulcet songs, are like bright stars that illuminate this broad and mysterious land. Generally speaking Tibetan dances fall into four groups: Folk Dances, Religious Dances, Royal Dances and Opera Dances.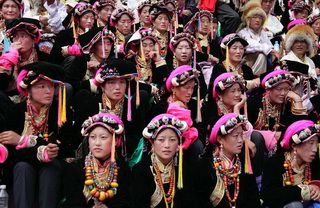 Tibetan Costume
Owing to its high elevation and bad transportation conditions, Tibet has long had few exchanges with the outside world. Its solitude serves to help the birth and maintenance of the exotic Tibetan culture. Tibetan costumes vary within different districts, professions, social status, seasons, occasions and genders in materials, styles, colors, and accessories and so on. It is said that there are over 200 kinds of Tibetan costumes, which ranks first among the ethnic groups in China.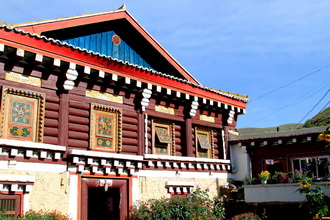 Tibetan Architecture
All the people who had been to Tibet, with no exception, would have been impressed deeply by Tibetan's bold love and preference to colors. From monasteries to residential buildings, from the monk's overall to the laymen's garments, even to furniture and knitting, all the colors are rich and vigorous. However, there's no a better place to show such a magnificence of colors than the toilets on the Tibet Plateau.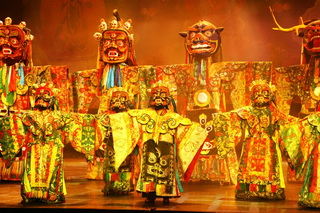 Tibetan Opera
Tibetan opera, known as a-che lhamo in Tibetan, is universally popular in Tibet and the Tibetan-inhabited areas of Qinghai, Sichuan and Yunnan. Modern Tibetan opera is a composite of a multitude of arts encompassing text, dance, melodies, masks and costumes, and an orchestral accompany -- for the songs. "ache" means elder sister or a female, and "lhamo" means a fairy.