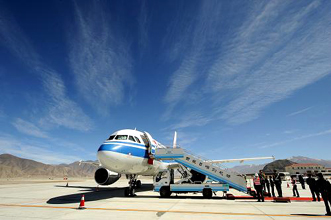 The transportation in Tibet has changed and been improved a lot especially during the past three decades. Now Tibet can be accessible by plane, train and by bus. The most fast and convenient way is getting Lhasa, Tibet by air. Lhasa's Gonggar Airport has flight links other major cities on the Chinese mainland such as Beijing, Xi'an, Chengdu, Kunming, Guangzhou, Chongqing, Shanghai, and Kathmandu in Nepal. Among all the cities,
Chengdu is the most important hub
which has the most flights to Lhasa on a daily basis. Most travelers choose Chengdu as their gateway to Lhasa, Tibet. Traveling to Tibet by overland trips is getting popular for these who have a longer and flexible travel plan. There are five highways stretching into Tibet from the Chinese Mainland and Nepal, namely,
Sichuan -- Tibet Highway
,
Yunnan -- Tibet Highway
,
Qinghai -- Tibet Highway
,
Xinjiang -- Tibet Highway
, and the
Sino-Nepal Friendship Highway
from Lhasa via the border town Zhangmu/Dram to Kathmandu,Nepal.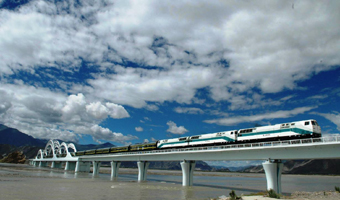 Qinghai - Tibet Railway
The Qinghai - Tibet Railway has already been open to traffic since July, 2006, and offers another experience of getting to Tibet. Such cities of Xining, Lanzhou, Chengdu, Beijing, Shanghai, Chongqing and Guangzhou have direct train going to Tibet.