Posted: May 23, 2013 By: Admin
Still wondering where to go during this hot summer season? We have selected 10 amazing resorts for your getaway. After all, you shouldn't keep yourself trapped in the city all summer long, so pack a bag and explore!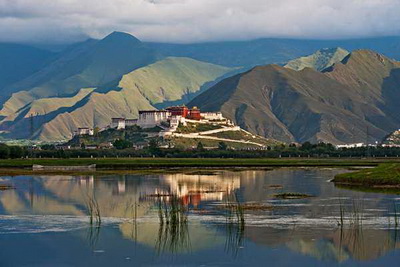 10.Tibet
The Potala Palace was built 1,300 years ago during the Tang Dynasty (618-907AD) when the Tibetan King Songtsam Gambo married the Tang Princess Wencheng. Potala is the name of the place, which means "residence of the Goddess of Mercy" in the Tibetan language.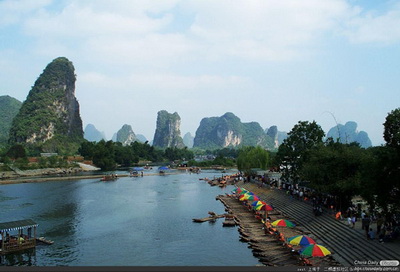 9.Guilin, Guangxi
Situated in China's Guangxi Region, Guilin is a scenic town and one of the best-known tourist destinations in China. There are many scenic places within the short traveling distance of Guilin. The town center is surrounded by two rivers and four lakes and studded with karst mountains.
Lijiang River, situated in Guilin City in the Guangxi Zhuang Autonomous Region, is a bright pearl on the list of China's tourist attractions and it is the highlight of all sightseeing tours in Guilin. The 83-km-long waterway from Guilin to Yangshuo is a sight to behold along the Lijiang River, which is decorated with rolling hills, steep cliffs, fantastic caves and lined bamboo trees.
The Lijiang River is famous for the beauty of four unique characteristics: verdant mountains, fragrant water, mysterious grottoes and exquisite rocks. Along the river, there are deep pools, dangerous shoals, murmuring springs and roaring waterfalls.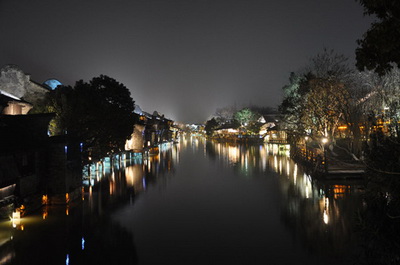 8.Wuzhen, Zhejiang
The Chinese say that unless you visit the Great Wall then you haven't been to China. For any visit south of the Yangtze River; one place not to be missed is the town of Wuzhen.
With a 1,200-year history, Wuzhen is about an hour's drive from Hangzhou, the capital of Zhejiang province. The small town is famous for its ancient buildings and old town design, where bridges of all sizes cross the streams that wind throughout the town. The night-time view of Wuzhen is always amazing.
Located in the center of the six ancient towns south of the Yangtze River, 17 kilometres (10.56 miles) north of the city of Tongxiang, the Water Town displays its 2,000-year history with its ancient stone bridges floating on calm water, its stone pathways between the mottled walls and its delicate wood carvings. Also, setting it apart from other towns, it provides visitors with a unique experience through its profound cultural backgrounds.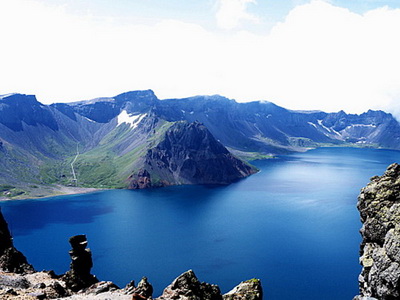 7. Changbai Mountains, Jilin
Located on the border between China and the DPRK, Mount Changbai is one of the most famous mountains in China. It belongs to the Changbai Mountain Range, which extends from northeast China¡¯s Heilongjiang, Jilin and Liaoning provinces to the DPRK¡¯s Ryanggang and Chagang provinces.
The most well-known site of the mountain is Heaven Lake, a crater lake known for its beautiful scenery.
Influenced by the vertical topography of the surrounded hill areas, Changbai Mountain forms four key ranges between the temperate zone and the frigid zone, and from the foot of the mountain and extending all the way to the top.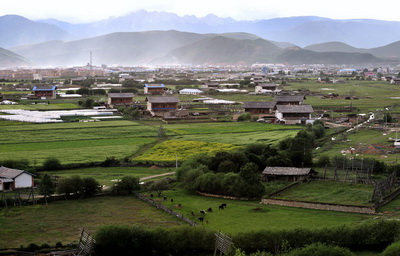 6. Shangri-La, Yunnan
Located 22km east of Shangri-La, Potatso was the first national park in mainland China. In the Tibetan language, "Patatso" means reaching the opposite side of the lake by boat with the help of adeity. Bitahai Lake and Shuduhu Lake are two major areas of the park. Besides these two lakes, forests, marshlands, valleys, alpine meadows and so on can be seen in the park. All major spots are connected by a walkable plank which offers a closer distance for travelers to experience the natural environment.
Just the mere mention of Shangri-La conjures images of paradise shrouded in cloudy mist and beyond human reach.
Songzanlin is the largest Tibetan Buddhist monastery in Yunnan province. Covering an area of 30 hectares, it looks like a mini Kumbum (Ta Er) Monastery. It is located on a mountain slope 5km from the county town of Shangri-La.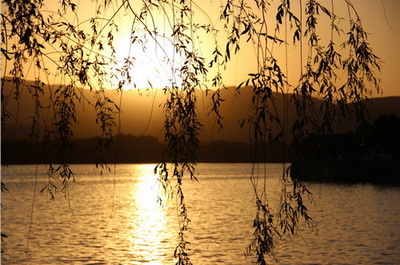 5. Summer Palace, Beijing
Summer Palace was once the residence of the Dowager Empress Cixi who spent a great deal of money developing and improving the scenery and the surrounding areas of the palace. With great reflections and a beautiful scenery of endless tales, Summer Palace is one of the most visited places in Beijing. Not only was it a good summer resort for Cixi, but has long been a wonderful place for people to visit during the summer.
The Summer Palace landscape, dominated mainly by Longevity Hill and Kunming Lake, covers an area of 2.9 square kilometers, three quarters of which is under water. Its 70,000 square meters of building space features a variety of palaces, gardens and other ancient-style architectural structures. Well known for its large and priceless collection of cultural relics, it was among the first group of historical and cultural heritage sites in China to be placed under special state protection.
Sunset is the best time for photographers who like to surround themselves in the beautiful scenery of Summer Palace. Visitors like to take photos during this time because the sunlight is at its softest period.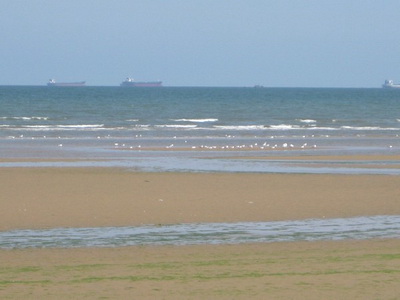 4. Beidaihe, Hebei
This isn't the white sandy tropical beaches of Sanya, but there isn't always time to travel that far if you live around Beijing or Tianjin and only have a few days to spare! Beidaihe is famous for its soft sand and water of moderate salinity, making it an excellent place to swim and relax under the sun. Many modern holiday villages and public bathing places have been built here.
A poetic seaside view and pleasant climate will linger in the hearts of all those who visit here. There are markets here where one can select live seafood and carry it away in a bag. However, many people using buckets gather shells and catch small crabs by the seaside all by themselves.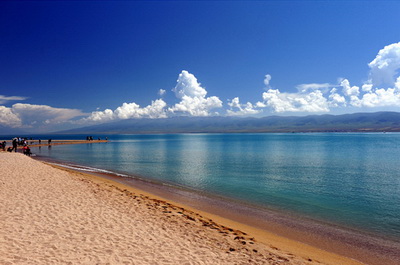 3. Qinghai Lake, Qinghai
Covering an area of 4,583 sq km, Qinghai Lake is the largest inland and salt-water lake in China. It rests 4,500 meters above sea level on the Qinghai-Tibet Plateau, surrounded by four mountain ranges. The lake is known for its fascinating color changes, depending on the angle, time of day, and season it is viewed from. The colors range from light green, blue, green, and grey, to orange and yellow.
It is not an exaggeration to say that Qinghai Lake is a miracle that has been endowed by a deity. A diety who has decorated the water with many little islands.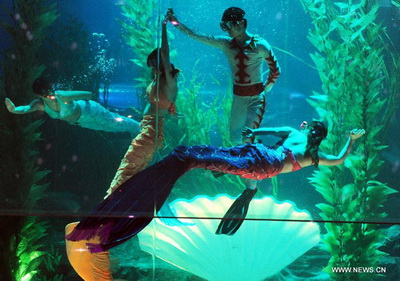 2. Qingdao, Shandong
Known as China's sailing city, Qingdao has all the advantages you could expect for a costal city. Cool air, fresh seafood, and well worth visiting!
ShiLaoRen is perhaps Qingdao's most impressive tourist beach. It was named after shape of the prominent rock outcropping located just off ShiLaoRen Peninsula. It is said to resemble an old fisherman waiting for his daughter to return from beneath the waves. With tables, chairs, tents, ATVs, speed boats, jet skis, showers, and a beautiful new boardwalk as well as continuing re-development of the site of the 2008 Olympic Sailing Regatta, this is an ideal place to spend an afternoon or warm summer evening.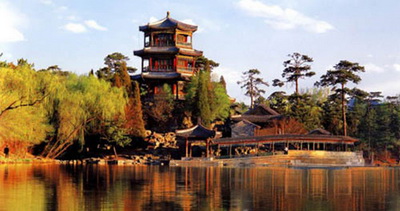 1. The Mountain Resort, Hebei
The Mountain Resort has eight large and small man-made lakes. Emperor Kangxi said it was like "having the mountains as the bone and water as the heart." And Emperor Qianlong's said, "though it is called the Mountain Resort, its beauty is in the water," which highlights one of the resort's biggest features.
Source: ChinaNews




Keep reading:
Splendid China Tours are proud to offer below featured trips covering these destinations, check out for details.