Update: JUNE 30, 2013 By: Admin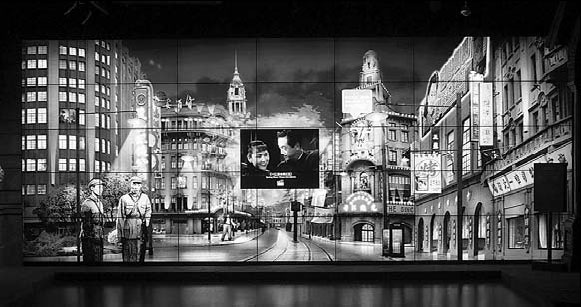 Shanghai Film Museum opens to the public. Pictured is Nanjing Road under a spotlight.

Shanghai Film Museum celebrated its grand opening on June 16, following the launch of the 16th Shanghai International Film Festival.
At the opening ceremony, a group of China's most respected film makers, such as Qin Yi, Wu Yigong, Jia Zhangke and Hark Tsui, unveiled a sculpture in front of the museum.
The sculpture is brand new, but the image is familiar to every filmgoer in China. The statue is of three people, representing the worker, the peasant and the soldier, and it is an image that has appeared at the beginning of each film production by Shanghai Film Studio for decades.
"We not only want to evoke the memories of the older-generation film makers and the history, but also inspire the young, and let them fall in love with film," Ren Zhonglun, president of Shanghai Film Group, said at the opening ceremony.
It took the group almost 10 years to collect and categorize the artifacts and documents for the museum. After careful selection and curatorial work, the museum decided to exhibit 3000 items among its collection. "We have some extremely valuable historical documents, costumes and props," Ren said.
Director Jia Zhangke donated the scripts from his Gold Lion award winning film Still Life as well as the 2013 Cannes Film Festival Best Screenplay award certificate of his latest project A Touch of Sin.
The exhibit has antique cameras, giant boxes of film, as well as machines that developed films. The public will also find dresses worn by beloved film characters, and see illustrations of film makeup.
In one of the exhibition halls, audiences can watch a documentary about the history of film in China on a 28-meter U-shaped screen which surrounds the audiences from three sides.
Interactive games are also very popular with visitors. They can dub a famous scene from a classic movie in dialect, and try out the Foley equipment to produce sounds of thunderstorms, horses running and gunshots. Cameras stand on a row of desks that allow viewers to capture simple movements and turn them into a short passage of animated film.
The museum is presenting a four-dimensional edition of The Monkey King daily until the end of the year. The international-award winning animation film was created in 1965 and re-launched in 3D last year. The draft drawings, setting designs and lots of other original drawings for China's most important animation films are also on show.
The 4D technology allows viewers to experience a real tremor in explosive scenes and they will get "wet" when water splashes on the screen. The 4D cinema is also equipped with highly advanced audio system to bring a powerful cinema-going experience.
Source: Xinhua