Posted: JULY 16, 2013 By: Admin
You use money to travel, but have you ever traveled because of your money? A few years ago a friend and I were talking about his vacation to Chongqing. "We wanted to see the ten Yuan note," he told me. Knowing him to be a joker, I laughed and took out my purse. "Well, I've got one right here," I said. "You didn't have to go so far!" He then told me about his and his wife's ambition to visit all of the sites found on the back of Renminbi notes. He was already planning a trip to Guangxi Province to catch the picture on the 20 Yuan bill.
Since talking to my friend, I realized I've also started to collect travel experiences related to scenes from my pocketbook. How excited I was when I realized the Guizhou minority women's costumes I'd just photographed were on the 5 Jiao note, and how carefully I saved a ten Yuan note so I could look at it as I sailed through the Three Gorges.
So let's open our wallets and take out some cash for a reason other than spending it. Let's go, like my friend, on a tour of China through its money, starting with the one Yuan note.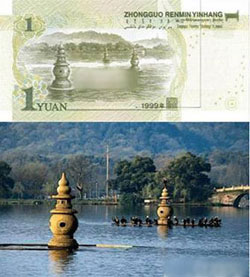 1) One Yuan-West Lake, Hangzhou, Zhejiang

Don't let the low denomination fool you. Just because the one Yuan note isn't worth much, scenic West Lake pulls in thousands of tourists each year. This 15-km circumference lake takes its name from classical-era poems written about its beauty, making it famous even when Marco Polo visited. Present-day visitors can take their picture at the stone pagodas poking out of the water at Three Ponds Mirroring the Moon, just like you see it on the one Yuan note.
How to find it: Hangzhou, Zhejiang Province.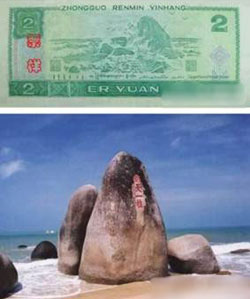 2) Two Yuan - The End of the World, Hainan

Although out of circulation, to find the image from the two Yuan note in real-life, grab your swimwear and head far south to the edge of China. Long before bronzed foreigners and groups of same-hat-wearing tourists descended upon Hainan Island, it was the site of forced vacations for out-of-favour politicians. Exiled diplomats felt that a sunny, white beach at the southernmost tip of the island was the end of the civilized world and they carved their musings in calligraphy on great boulders near the sea. These stony poems have been immortalized on the two Yuan note.
How to find it: Tianya Haijiao Park, Tianya town, Hainan.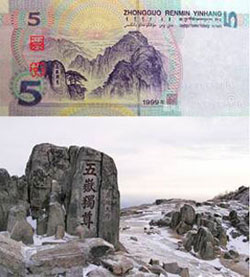 3) Five Yuan - Mount Tai, Taoist Holy Peak, Shandong

Going back north, the five Yuan note commemorates China's foremost Taoist holy mountain. Considered formed from creator of the world Pangu's head, many embark on a pilgrimage to Tai Shan praying for rebirth or renewal. In the 1980s, the 1,500-meter plus tall mountain was named a UNESCO World Heritage Site. Visitors to Tai Shan can climb its forested slopes via pathways of more than 7,000 steps or use buses and cable cars to reach the summit. Unfortunately however, tourists won't be able to get the exact view depicted on the note from the mountain itself.
How to find it: South of Jinan, the capital of Shandong Province.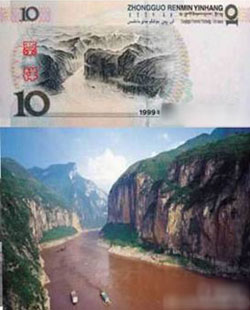 4) Ten Yuan - The Three Gorges, Chongqing

On to central China next. The famous Three Gorges of the Yangtze River are emblazoned in blue on the ten Yuan note. Although some people have only heard of them in reference to the Three Gorges Dam downstream, these tawny cliffs carved by the water of one of the world's most important rivers have been attracting river-going travelers since the Song Dynasty.
How to find it: The gorges take up about 120 kilometers between Fengjie, Chongqing and Yichang, Hubei. River trips depart daily from both up- and down-stream.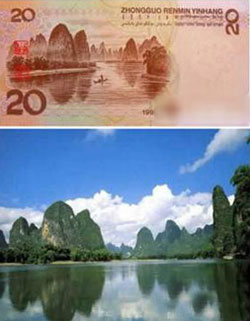 5) Twenty Yuan - Lijiang River, Guangxi

Another river scene decorates the 20 Yuan note. The distinctive mountain-water vistas of the karst formations near tourist Mecca Yangshuo have inspired painters and poets for centuries. The placid Li River winds along between the knobbly hills like thread between bobbins. Despite the large influx of tourists, fishermen still take their boats out on the mirrored waters and use hook and line or even a live cormorant to get their day's catch.
How to find it: Xingping Village, Yangshuo, Guangxi Province.
Source: eChinaCity