Update: JULY 29, 2013 By: SplendidChinaTours.com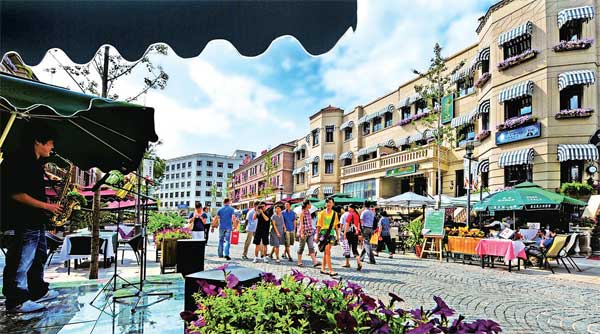 The Italian-style area has a history of more than 100 years and is the largest and best preserved in all of Asia.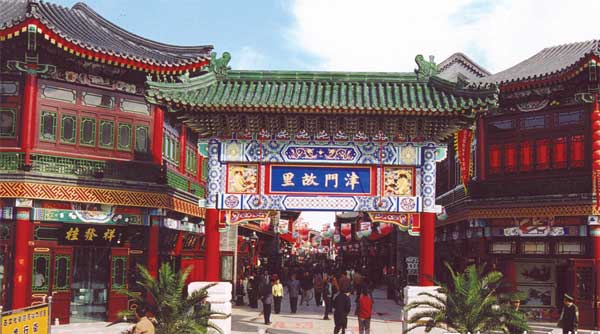 The ancient cultural street beckons tourists every day.
Tianjin welcomes tourists with six new themed tours
By high-speed train, it takes only 32 minutes to reach Tianjin from Beijing. The large coastal city in North China is endowed with a rich historical and cultural legacy. Tianjin also has abundant natural scenery, including mountains, rivers, lakes and wetlands, making it an ideal place for travel.
To capitalize on these assets, the city has rolled out six themed tours in an effort to transform itself into an international tourist destination and a base for the travel equipment industry.
Culture &history tour
Tianjin was one of first points of contact between China and the West and it was home to various Western-styled buildings after it became a trading port in 1860.
Early German-styled residential buildings, among the only ones left in Asia, sit on Jiefang South Road. The Italian district has a history of more than 100 years and is one of the largest and best preserved of all in Asia.
Tourists are strongly recommended to visit Wudadao, the famous Five Big Avenues area, which comprises 23 streets in total, hosting approximately 2,000 villas in various styles. It is widely known as a showcase for international architecture.
In fact, there is a story behind every Western building in Tianjin, and together they form an abundant cultural resource for the tourism industry.
City tour
Tianjin has been an industrial and commercial center for much of modern history. The Tianjin Museum and Tianjin Natural History Museum, for example, are ideal places to catch glimpses of the city's heritage.
Its financial, shoe and wine museums help demonstrate the industrial development. The Zhou Enlai and Deng Yingchao Monument and Jintang Bridge are popular places for "Red tourism," which
refers to sites that house important landmarks in China's revolutionary history.
Tianjin also has time-honored food streets and European-styled shopping streets. The Tianjin Culture Center is by far the largest public facility for cultural and leisure activities.
It covers a total floor area of 900,000 square meters and consists of museums, art galleries, libraries, theaters, and shopping malls.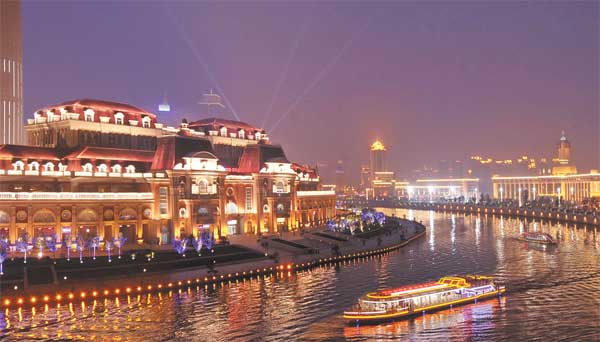 Lights along the Haihe River brighten up the night sky in Tianjin.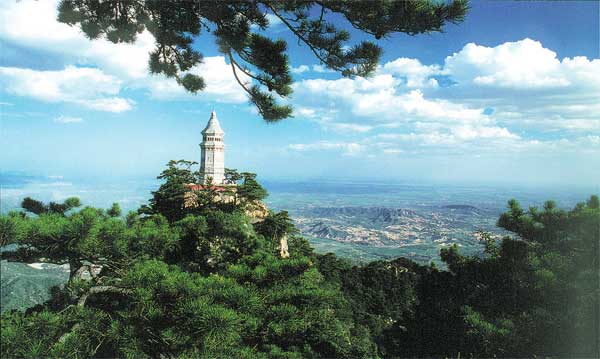 Panshan Mountain is a national scenic spot that is home to forests, mountains and rivers.
Haihe River tour
The Haihe River meanders its way through Tianjin and has often been referred to as the "Seine of the Orient." Tourists can boat along the river and take in the beautiful scenery while savoring local snacks.
"The Seine is beautiful, but it feels better to tour around Haihe," said Klaus Schwab, president of Davos Forum.
Jinwan Plaza is a modern, European-styled building on the bank of Haihe River. It also has theaters, cinemas, restaurants, shopping malls, and other types of entertainment activities on offer.
There are 21 bridges over the Haihe River and each constitutes scenic attraction, forming a distinctive bridge culture. Rising over the spectacular Yongle Bridge is the world's largest ferry wheel.
Binhai New Area tour
The tour features a vineyard and the Binhai Aircraft Carrier Theme Park.
Tourists can take a boat to go seafishing and enjoy a seafood feast.
They can visit wristwatch factories and breweries to observe the whole manufacturing process and then relax at the Longda Hot Spring Resort, a wellfurnished tourist amenity.
Natural scenery tour
There is also a wealth of natural scenery to enjoy in Tianjin.
The Panshan Mountain is a national scenic spot that is home to forests, mountains and rivers. It's been named one of the top 15 tourist attractions in the country.
The Huangyaguan Section of the Great Wall is a World Cultural Heritage site and has been called "the epitome of the Great Wall."
Qilihai in Tianjin's Ninghe county is the only nature reserve in China with an ancient coast and wetland, and it is famous for its birdwatching, oyster beach and shell bank.
In addition, the city has a tropical plant garden, hot spring resorts and various expo gardens.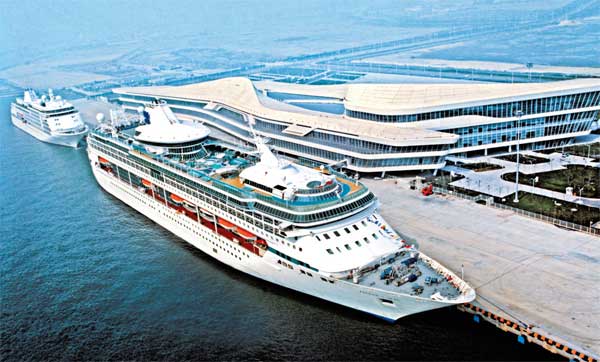 The Tianjin International Cruise Home Port in Dongjiang is a new tourist hot spot.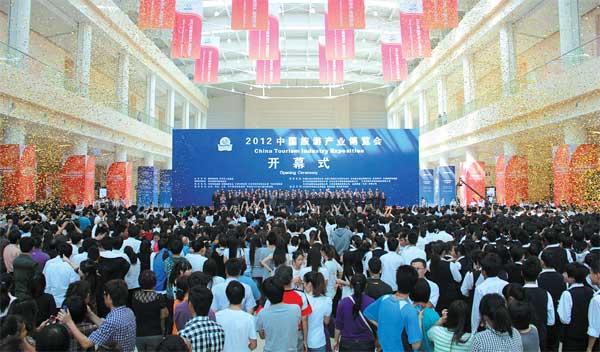 The venue of the China Tourism Industries Expo, which is set to run from Sept. 5 to 8. It will showcase the latest achievements in tourism equipment and products.
Tourism Industries Expo
The China Tourism Industries Expo to be held from Sept. 5 to 8 will showcase the latest achievements in tourism equipment and products.
The event has been held successfully in Tianjin since 2009 and has attracted representatives from more than 80 countries and regions from around the world.
It is jointly hosted by the China National Tourism Administration and the People's Government of Tianjin. The expo will give a boost to Tianjin's highend tourist projects, especially cruises and yacht tours.
The tourism administration has given approval to the establishment of a cruise tourism pilot zone in the Binhai New Area.
The Dongjiang International Cruise Home Port is Asia's largest, and it received more than 100 international cruise ships from 2010 to 2012. Cruise tourism is expected to grow rapidly in the coming years and many multinational companies have started doing cruise business in Tianjin. Like cruise ships, yacht tourism is also quickly gaining ground in Tianjin. At the moment, the city is building relevant facilities for marinas and plans to build four yacht clubs.
This year, Tianjin also launched aerial sightseeing tours, which will become an important part of the tourism industry.
Looking forward, Tianjin is expected to become the center of cruise and yatch tourism in China.

Source: ecns