Updated: SEP 1, 2013 By: SplendidChinaTours.com
Supermarkets in the cities stock aisles and aisles of the product, and special booths at the new airport in Kunming sell this and nothing else. The same is happening in other major tourist destinations in the province such as Dali and Lijiang. The flower cakes have definitely caught the attention of tourists coming to Yunnan, but it is a relatively new seduction.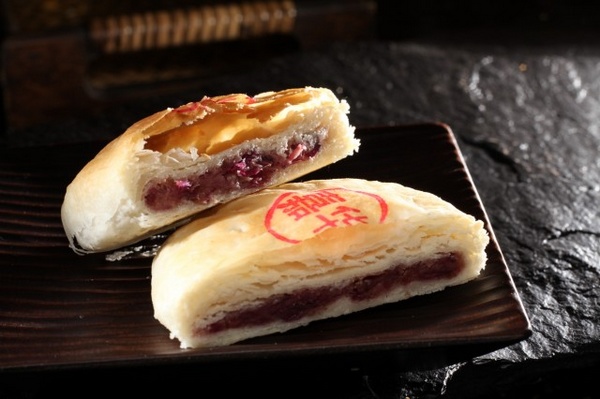 Flower cakes.
It did not take a Eureka moment to spark the trend, but some believe that it took some push to get it going. "The flower cake has been around for more than 20 years, but they had been mostly eaten locally. "Traditionally, people in Yunnan looked at roses as food and flower cakes were eaten at breakfast and as snacks," says Zhang Chao, general manager of Yunnan Jiahua Food, currently one of the biggest producers of these rose pastries.
"In 2007, we mapped out the commercial production of flower cakes, took a new look at the product and its packaging and presentation. We also looked at advertising, and creating franchises." It was a fortuitous move that quickly brought visible returns.
The first franchise store opened in July 2010 and the shop sold 130,000 yuan ($21,203) that first day, breaking a record in the baking industry in China. Zhang says the sale of these pastries has increased by 50 percent year on year since 2008. In 2012, Jiahua's total sales of rose pastries reached 15 million yuan, or about a third of the company's total revenue.
Currently, Yunnan Jiahua Food has 3,000 mu (200 hectares) of land cultivating roses that are edible. A third of the production base lies in Lufeng county, Chuxiong Yi autonomous prefecture, and the rest is located in Malong county, Qujin city. Together, the Jiahua plantations produce 1,200 metric tons of roses that are used in the pastries.


According to the Office of Yunnan Flowers and Plants Industry, the province currently has more than 12,000 mu of edible rose plantations in Kunming, Yuxi, Chuxiong, Lijiang, Qujin and Dali. Wang Guiming, a 45-year-old farmer, has a rose plantation of about 2 mu in Yunzhaotun village, Bajie county in An'ning city. He has been cultivating roses for about a decade.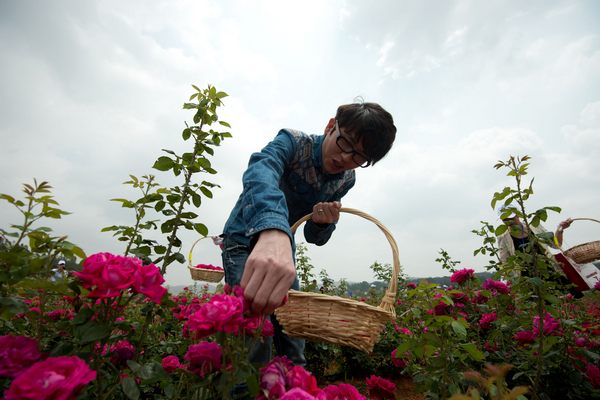 A man picks flowers.
"In recent years, the price of edible rose has rocketed as demand increases. I make about 50,000 yuan a year. If we planted other crops, I'll probably be making about 3,000 yuan for every mu I plant. Almost every household in our village grows roses now." The history of growing roses in Bajie county dates back to the 1970s, but the Bajie Cooperative of Edible Rose was founded in 2008 to strengthen the industry.
At present, the cooperative includes 197 members and has a total cultivated area of 1,000 mu. The cooperative also held research and develop new products, such as rose sugar, rose jam, rose lozenges, rose drinks, fresh juices, bath salts and even a rose liqueur. "The price of roses has increased steadily, rising from about 8 to 9 yuan per kilo in 2008 to about 25 to 30 yuan per kilo in 2013," says Long Xinghuai, head of the Bajie cooperative.
It seems roses will continue to be in demand for a long time, since it seems to be the only flower that suits the purpose. "We've tried to make the filling from other flowers such as sweet osmanthus and jasmine, but we failed. Only the rose can maintain its original fragrance after the cake is baked," Zhang of Jiahua says. The Mid-Autumn Festival, Spring Festival and summer holidays are the best times for selling the pastries. It has also become a trend to buy the rose cakes as gifts, instead of traditional mooncakes.
The shelf life of flower cake varies from seven days to 45 days depending on the ingredients, and there are more than a dozen varieties of pastries on sale now. Some cakes have other ingredients added such as pine nuts and Yunnan's famous ham. "Many food enterprises are venturing into this market because it is so promising. With more than 100 companies now jumping onto the bandwagon, it is still a scattered and disorganized industry. We are expecting the government to step in soon with some proper guidelines and regulations," Zhang says.
In the meantime, the rose pastries of Yunnan are just growing more and more popular, and not just in China. Zhang tells the story of a student from Yunnan who was studying in the United Kingdom. He had brought rose pastries with him and was very surprised to find them very popular with his British schoolmates.
He brought in another 100 cakes and sold them for 2.5 pounds ($3.90) each. Since the cakes only cost about 4 yuan each, he made enough money to take care of his living expenses for that semester. It is a lot cheaper to buy the rose pastries online, where companies such as Jiahua have a flagship store on Taobao, one of China's largest online supermarkets.
Source: ChinaDaily