Updated: OCT 13, 2013 By: SplendidChinaTours.com
At first glance, it has the look of a cutting-edge, high-tech exhibition. There's a digital showroom that positions viewers into a 3D experience, an electronic wristband that can be used as your admission pass, and a talking robot that looks like a fortune-teller.
These exhibits were just a part of the Walt Disney Imagineering open house at the Disney D23 Expo held from Aug 9-11. The weekend-long event took consumers behind the scenes to experience the company's many franchises through a mix of traditional storytelling and new technologies.
The exhibit for D23, the official Disney fan club, was the third bi-annual event held at the Anaheim Convention Center in Southern California. Fans arrived from 48 states and 21 countries and formed long queues or waited anxiously in their tents to get a ticket.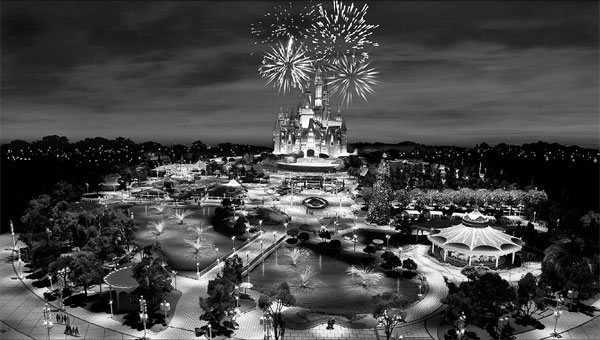 A simulated image of the Shanghai Disney Resort, which will be the first such on the Chinese mainland when it opens in 2015.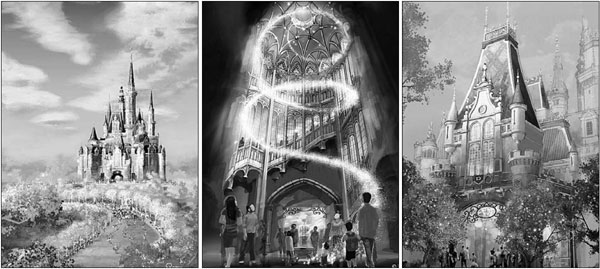 Simulated images of enchanted storybook castles in Shanghai Disney Resort.
But the fans who will have to wait even longer to interact with Disney's new technological gadgets and exhibits might be from China. Many of the company's new technologies on display at the D23 Expo might make their way to the Disney resort in Shanghai when it opens in 2015.
During his frequent trips to China, Bob Iger, chairman and CEO of the Walt Disney Co, reiterated that he will give Chinese customers a resort that is "authentically Disney and distinctly Chinese".
The Shanghai park will be distinctive because "every single thing we put in the Shanghai park will have been rethought, reimagined, or even re-engineered, to respond and make sure that we tailor everything for our Chinese audience," he said. "It is going to be the best of Disney but designed specifically for the people of China."
The best of Disney for China
The Shanghai resort will be Disney's most technologically advanced, said Tom Staggs, chairman of Walt Disney Parks and Resorts.
"Because we built it from scratch, it will be the most technologically advanced park," said Staggs. "We invented a number of new ride systems for the park. Some of them will be very obvious. Some of them will be part of the magic."
Staggs said the resort will largely be based on the tendencies of its customers. For example, at Walt Disney World Resort in Florida, people come and stay for at least a week. In Tokyo, people tend to stay for one or two days, he said.
He said the company will initially consider how visitors will use the resort and its technology and then implement updates later as the resort responds to that customer usage.
"We want to make sure we leverage technology to the greatest extent possible to make it as easy and fun and convenient and, at the same time, as personalized for each of our guests as possible," Staggs said.
But the process of creating the Shanghai Disney Resort, the first Disney resort in a developing market, created foreseeable challenges for the resort's designers and operators.
One of them is a lack of familiarity in China with Disney franchises. While most Western consumers grew up with Disney's movies, stories, music or television shows, the majority of Chinese people can only name a couple of Disney characters, such as Donald Duck or Mickey Mouse.
That is slowly changing, said Zenia Mucha, executive vice president and chief communications officer of the Walt Disney Co. An increasing numbers of mainland Chinese have visited the company's theme parks around the world, which is building familiarity with the company's unique theme park experiences and storytelling.
Mike Crawford, general manager of Shanghai Disney Resort, said guests at the resort will be able to experience even more of Disney, whether as hotel guests touring nature-based experiences around the resort's lake, or while visiting the theme park.
"It is how we keep the guests' memories alive," Crawford said.
Disney also recognizes the importance of great food to Chinese consumers. Crawford said the resort is conducting food tastings and research to understand the Chinese palette. Speaking on the types of cuisines to be offered at the resort, he said: "It is not so much about the choice between Western versus Chinese cuisine. Rather, because of the different cuisines available in China, we are going to have varieties of flavors representing the different cuisines of China."
He also said there will be several international cuisines for Chinese consumers who want to experiment with new flavors.
Yang Yansong, associate professor of the Chinese Tourism Academy, said Disney serves as a great venue for Chinese families who have found it inconvenient to travel to Tokyo or Hong Kong. Yang added that the company's advanced level of service will also raise the bar in tourism in Shanghai.
A boost to Disney travel
Staggs has high hopes financially for the resort in Shanghai. "We invest a tremendous amount to make our parks ready. It will take some time for it to reach profitability. But we expect the park to be there for decades, and therefore, a certain amount of patience in terms of early return is both warranted and should be expected," he said.
The chairman added that Disney's park and resort businesses tend to be sensitive to economic fluctuations, as was the case during the global downturn between 2008 and 2010.
"The businesses dropped a bit more," Staggs said. "But we had significant growth since then, and we have since achieved record level profit. The growth has been good."
Revenue for its parks and resorts last quarter increased year-on-year by 7 percent to $3.7 billion and operating income increased 9 percent to $689 million.
While some have worried that the geographical proximity between Hong Kong Disneyland and the Shanghai Disney Resort may offset the number of potential visitors, Staggs said the size of the potential audience is large enough that business will be maximized at both sites.
"The best thing to do for Hong Kong is to make Shanghai successful and vice versa," he said. "The more Hong Kong is successful, the better it is for Shanghai."
The two Disney properties in Hong Kong and Shanghai will not affect the volume of visitors to the Tokyo resort, Staggs said, because more than 90 percent of visitors to the Japanese site are domestic travelers.
Staggs said they will continue to develop Walt Disney Parks and Resorts. The company has many new attractions that were recently launched or are in the works, including New Fantasyland in Florida, which opened last year; a new attraction in Paris that will open next summer and is based on the Disney/Pixar film Ratatouille; three new theme lands to Hong Kong Disneyland; and the anticipated debut of Star Tours: The Adventures Continue at Tokyo Disneyland, which is a 3-D attraction inspired by the Star Wars movies.
Staggs said the company's biggest news will be the opening of the Shanghai resort. He said Disney will continue to expand their properties in Hong Kong and in Shanghai after its opening at the end of 2015.
In recent years, China has seen a cluster of theme parks and resorts, with many brands developed into chains scattered across major cities, such as the Happy Valley amusement parks developed by the Overseas Chinese Town Enterprises Co. Yang Yansong, from the Chinese Tourism Academy, said Disney's resorts will create a bit of competition for domestic brands, but that the impact would mostly be visible in Shanghai.
The entertainment empire
The magic of Disneyland Parks and Resorts is not only about cartoon characters or adventure facilities, but they also connect with Disney's various entertainment businesses, Staggs said. Over the years, The Walt Disney Co has grown into a business empire with units ranging from entertainment, parks and resorts to consumer products.
Among them, Disney's films serve as the opportunity to explore new themes in the parks while merging people deeper into the stories they encounter, Staggs said.
During the tenure of Bob Iger, chairman and CEO of The Walt Disney Co, Disney has reached a total shareholder return of 193 percent and a market capitalization that has risen to $113.7 billion from $48.4 billion in 2005, when Iger became CEO, said Orin C. Smith, independent lead director of the Disney board of trustees.
With the acquisitions of Pixar, Marvel and Lucasfilm, major investments in the company's parks and resorts and an expansion into key international markets, Disney has focused its next chapter of growth in technology.
"Technology informs all of our creative businesses," said Iger. "You don't succeed nor survive unless you are capable of adapting to new technology and adopting technology in every aspect of how the company runs."
Iger said new technology is creating new venues by which Disney can reach consumers and new ways that consumers consume intellectual property. In terms of future growth, aside from creating more intellectual properties and growing internationally, it is also important to create new content, he said, citing Youtube as an example.
"We have to participate in these kinds of growth. We don't have to acquire any more to achieve that. We have to make sure we have infused our creative talent with the mandate to tell our stories through these new platforms."
On the international market, borders have been broken down because of new technology, he said.
In talking about the company's television division, Iger said it is important to create locally and to embed talent locally so they understand the people, culture and the government and the market. "We believe in deepening our roots in places around the world such as China, Russia and India," he said. "In order for us to grow the company internationally, we have to do so by organic investment and also by acquisitions."
Iger, who was excited about the park in Shanghai, said, "We are building a future where children in China can grow up dreaming about a trip to Disneyland in Shanghai."
Source: ChinaDaily