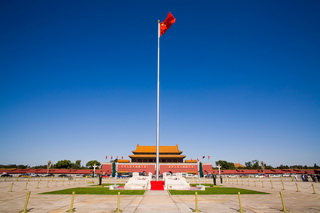 Beijing is the capital of China and the political and cultural center of the country. Rooted in rich history and splendid culture, Beijing is also a modern city with high rising skyscrapers which showing the essence of a fast-changing city.
Beijing is located in northern China, close to Tianjin Municipality and partially surrounded by Hebei Province. The city covers an area of more than 16,410 square kilometers (6336 square miles) and has a population of 14.93 million people.
Beijing is a city with four distinct seasons. Its best is late spring and autumn. But autumn is taken as the golden tourist season of the year since there is sometimes in the spring of recent years, a yellow wind. We suggest tourists visit Beijing during the months of May, September, and October when people can enjoy bright sunshine and blue skies. An abundance of international class performances are presented in May. If you like winter, you will have other chances to appreciate another landscape of Beijing. After skiing in Beihai and viewing the snowy sights on West Hill, enjoying the steaming hotpot is the best choice, which is really the fun of tour in Beijing. Please keep warm and remember to bring your down garments and sweaters when you visit Beijing in the winter.
The city is regarded as a never miss destination in China: Hiking up the winding Great Wall at Badaling or Mutianyu could be a once in a life experience and a visit to the Forbidden City can see the ancient imperial palace, also the typical example of traditional Chinese architecture heritage; Summer Palace is another piece of the empire's glorious creations, together with Tiananmen Square, Temple of Heaven, Ming Tomb and many other temples. Dwelling too much on the historical past of Beijing may give tourists the false impression that it is little more than an ancient city in style but this is definitely not so!
Strolling around Beijing, you'll find it has much in common with any other great metropolis elsewhere in today's world. There are towering skyscrapers; busy shopping malls and an endless stream of traffic that makes the city much the same as others. The most famous and popular commercial circles and commercial pedestrian streets are predominantly located near the Yansha Shopping Mall, Tiananmen and Wangfujing Street, Guomao Shopping Mall, Qianmen Street and Xidan Street, etc. However, although you will find multinational chains with their own brands to offer, nowhere else on earth will you find such a variety of gourmet Chinese restaurants offering the very best of the eight different styles of Chinese cuisine as well as western style dishes. Modern hotels abound, each offering the highest standards of service and convenience.
Beijing also offers some off-beaten tracks for travelers, cycling in the Hutong area to get a glimpse of Old Peking lifestyle, trekking on the remote and untouched Great Wall from Jinshanling to Simatai sections with few tourists there; Have a wonderful Beijing Night and enjoy the fabulous Beijing Opera or the Legend of Kung Fu, taste the famous Peking roast duck making your mouth watering, visit the local markets on the Xiushui Street and bargain for a good deal.
__________________________________________________________________________________________
Things To Do in Beijing - Beijing Attraction Guide


The Great Wall of China

The Forbidden City

Temple of Heaven

Summer Palace

Ming Tombs

Beijing Hutongs

Beijing Lama Temple

National Museum of China

Beijing Capital Museum

Peking Man Site at Zhoukoudian