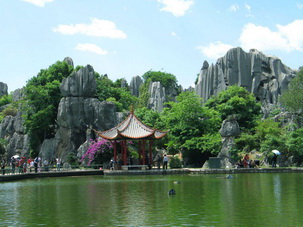 Kunming, capital of Yunnan Province, with a history of more than 2400 years, owes its importance to the fact that it was the gateway to the celebrated Silk Road that facilitated trade with Tibet, Sichuan, Myanmar and India. Known in China as the "City of Eternal Spring", Kunming is one of the most pleasant and relaxed cities in this country. The city covers an area with 6200 sq. km (3844 sq. km) including 4 city districts and 4 rural counties. It is one of the major tourist city attracting more than 2 million visitors annually with 800 thousand more coming from abroad. The city has a population of around 3 million, the prefecture near 6 million. Both are growing fairly rapidly; the prefecture is predicted to hit 10 million by 2010.
The city was founded over 2,000 years ago, but it did not gain prominence until it became the eastern capital of the Nanzhao Kingdom in the 8th century. By the time the Mongols swept through in 1274AD, Kunming, or Yachi as it was then known, was enough of a flourishing town to have attracted the attention of Marco Polo, who described it as a "very great and noble" capital city. The city's bloodiest period occurred during the Qing dynasty, with a series of Muslim rebellions. In the late 19th century, foreign influence appeared in the form of the French, who built a narrow-gauge rail line to Vietnam that is still in use today. During World War II, Kunming played an important role as the terminus of a major supply line (the famous Burma Road) in the Allies' Asian theater of operations.

Today, Kunming's wide streets, towering office blocks, and giant shopping centers all convey the impression of a modern, 21st-century city. A subtropical location and high elevation (1,864m/6,213 ft.) give Kunming a temperate climate year-round. Its days are filled with sunshine, making almost any time good for a visit, though the balmy months of September and October are especially fine.

For first-time tourists Kunming city center is an attraction with its two squares and five interlaced roads - Jinma Biji Square, Dongfeng Square, Dongfeng Lu, Jinbi Lu, Zhengyi Lu, Renmin Lu and Qingnian Lu, among which Jinbi Square has the most eye-catching architecture. Qingnian Lu, Zhengyi Lu, and Renmin Lu are the main commercial areas in Kunming; the most popular pedestrian streets are Nanping Jie, Jingxing Huaniao Shichang, and Jinma Biji Fang.

Kunming is the focal point of Yunnan minority culture. Some 26 ethnic minorities such as Yi, Bai, Miao, Dai, Hani and more inhabit the region. Each group has its own featured festivals such as the Torch festival of Yi people, the Golden Temple Fair and so on. The hugely successful 1999 International Horticultural Exposition enhanced Kunming's influence in the world resulting in a snowball effect upon tourism as more and more foreigners come to discover this enchanting part of China.
Its alluring highland scenery, bewitching karst landform, varied and exotic habitats and customs and places of historical interest can be found at major scenic spots such as Dianchi Lake, Stone Forest and the Village of Ethnic Culture etc.


_______________________________________________________________________________________

Things To Do in Kunming - Kunming Attraction Guide


Stone Forest,Kunming

Yuanyang Hani Rice Terraces

Tuanshan Village, Jianshui