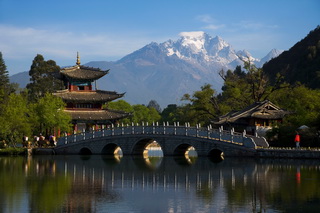 Under the snow-capped peaks, Lijiang is set in a dramatic landscape which is the home to Naxi people who hold their unique cultures and traditions to this day. Lijiang Old Town is just laying beneath the Jade Dragon Snow Mountain (Yulongxueshan). Lijiang is quite enchanting because of its traditional architectures, intricate system of narrow waters and canals which serve as the lifeblood of the old town, and above all, the splendid Naxi culture.
The ancient town of Lijiang is a traveler's wonderland which has been classified as a World-class Cultural Legacy by UNESCO. Host to the interesting Naxi Minority, Lijiang is a place to relax, with some of the best charming hotels in China in its heart. Lijiang area is also full of action: trekking to Tiger Leaping Gorge, Jade Dragon Mountain or Wenhai, discover by bike, by walk or on a horseback the charming ancient cities of Yuhu, Shuhe or Baisha. Further attraction is the wonderful Lugu Lake, home to the Mosuo minority, and the First Bend of the Yangtze River, en route to Shangri La, and the unknown LashiHai Lake.
The crystal-clear waters of Lake Lugu, about an 8-hour drive from Lijiang, is home to the unique Mosuo folk, a matriarchal clan that is considered by the Chinese government as a sub-group of the Nahki Ethnic Minority (based on scholarly evidence of course), though the Mosuo insist that they are separate from the Nahki, who, in contrast to the Mosuo, are patriarchal, as are most mainstream ethnic minorities of China - and indeed, as are most cultures the world over. What makes the Mosuo so unique as a cultural group is that they not only are not patriarchal, they also do not form the usual conjugal relationship, but instead live together in casual cohabitation.
With a population of 1,015,000, greater Lijiang comprises, besides the newer city itself as well as the old town, four rural counties, where 22 ethnic minority groups live. Roughly 57% of the population of greater Lijiang thus consists of ethnic minorities, the rest being Han Chinese. The ethnic minorities of greater Lijiang include, beside Nahki, the Bai, the Dai, the Tibetan Hui, the Lisu, the Miao, the Pumi, the Yi and the Zhuang.

_______________________________________________________________________________________
Things To Do in Lijiang - Lijiang Attraction Guide

Lijiang Old Town

Jade Dragon Snow Mountain

Tiger Leaping Gorge

Lugu Lake

Shuhe Old Town

Shigu Village

Songzanlin Monastery

Shangri-La Ancient Town

Three Parallel Rivers of Yunnan Protected Areas

Meili Snow Mountain (Kawa Karpo)