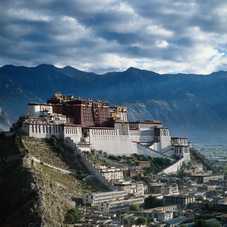 Lhasa, the capital of Tibet is situated on the north bank the Kyichu River with an altitude of 3658m (about 12000 feet). In Tibetan, Lhasa means "The land of the Buddha" or "Holy Place". The city has a long history of 1300 years with a population of approx. 400,000. With more than 3,000 hours of sunshine annually, Lhasa is famed as "the City of Sunshine".
In the ancient parts of the city, in particular near the Potala Palace and Jokhang Temple, you'll find spinning prayer wheels, colorful prayer flags and traditionally clad Tibetans going about their Buddhist business. Take your time in Lhasa, and you are virtually guaranteed unforgettable sights and experiences as you explore the streets, bazaar and attractions of this dynamic city at the heart of the Land of the Snow - Tibet.
Lhasa enjoys an annual precipitation of 230-570mm. It rains mainly in July, August and September. The fall (autumn) season is the best season of the year, when it rains mostly during nights, and is sunny in the daytime. Usually tourists are advised to visit the holy city from March to October each year.
For natural scenic spots near Lhasa, visitors shouldn't miss the Namtso Lake, the Yangpachen geothermal grounds and the Nyainqentanglha Mountain range. Besides, the Dezhong Hot Spring of Maizhokunggar County, the Doilung and Xungba Gyura hot springs of Doilungdegen County, the nature reserves at Lhunzhub and Maizhokunggar counties are also worthy of seeing.
Lhasa itself is a perfect blending of modern and old. The city has an eclectic mix of people, Tibetans with their colorful clothes, as well as explorers, mountaineers and tourists from all over the world. There's a saying describing Tibetans, "that if a Tibetan can talk, he can sing; if one can walk, he can dance." This aptly describes their lively and vibrant culture in Lhasa and Tibet.


______________________________________________________________________________________

Things To Do in Lhasa - Lhasa Attraction Guide


Potala Palace

Yamdok Yumtso Lake

Nam Tso Lake

Jokhang Temple

Norbulingka Park

Drepung Monastery

Sera Monastery

Gandan Monastery

Pelkor Monastery & Kumbum Stupa

Tashilunpo Monastery

Shalu Monastery

Sakya Monastery

Samye Monastery

Mt.Kailash

Lake Manasarovar

Jampa Ling Monastery

Mt. Everest, Tibet

Tibet Museum, Lhasa