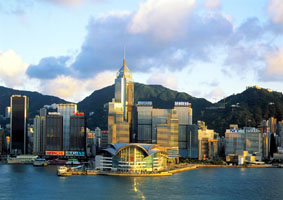 Hong Kong is situated on the southeast coast of China at the mouth of the Pearl River facing the South China Sea. Covering an area of 1,104 square kilometres (425 square miles), the territory is made up of Hong Kong Island, the Kowloon Peninsula and the New Territories. At the core is Victoria Harbour, which separates Hong Kong Island from Kowloon and beyond that, the New Territories that runs up to the boundary with Mainland China. As well as making up the bulk of Hong Kong's land mass, the New Territories also incorporates 262 outlying islands, including Lantau where the airport is located.
Despite its dense urban environment, about three quarters of Hong Kong's total area is countryside, including about 40% designated as country parks and special areas that are all easily accessible.
The bustling city of Hong Kong was just a collection of fishing villages when claimed by Britain in 1842 following the First Opium War with China. This failed attempt by the Ching Dynasty to stop the British trading in opium led to Hong Kong being ceded to Britain under the Treaty of Nanking that year. The Kowloon Peninsula was handed over in 1860 and a 99-year lease on the New Territories, comprising the area north of Kowloon up to the Shenzhen River plus 235 outlying islands, was granted in 1898. Under the unique principle of 'One Country, Two Systems', Hong Kong returned to Chinese sovereignty on 1 July 1997 as a Special Administrative Region of the People's Republic of China. This arrangement allows Hong Kong to enjoy a high degree of autonomy, retaining its capitalist system, independent judiciary and rule of law, free trade and freedom of speech.
Hong Kong's magnificent harbour has been the key to its development as a trading port and entry for China, progressing through an industrial era to become a leading financial and services centre in Asia. The unique blend of eastern and western influences, matched by diverse attractions and stunning countryside, has also made Hong Kong Asia's prime tourist destination.
Cantonese is the Chinese dialect spoken by over 88% of the people in Hong Kong. However, English is widely used in the Government and by the legal, professional and business sectors as well as tourist areas. Most taxi drivers and salespeople are able to communicate in English. Since reunification with China in 1997, Mandarin, more commonly known as Putonghua - the official dialect of China, has gained in prominence and most locals can at least comprehend it to a certain degree.
Hong Kong is a multicultural and secular city with a multiracial population living in harmony. Tolerance for the customs and traditions of all religion and ethnic groups is part of the city's cosmopolitan philosophy. People are free to openly worship according to their own beliefs.
Hong Kong is a distinctive blend of western and eastern, ancient, and modern and no trip to China is complete without a stop Hong Kong. Come with Splendid China Tours to visit this amazing destination!


_____________________________________________________________________________________________

Things To Do in Hong Kong - Hong Kong Attraction Guide

China Explorer with Hong Kong

Classic China with Hong Kong

China Essence with Hong Kong

China Explorer with Hong Kong for Families

South China Connoisseur

China Highlights with Hong Kong