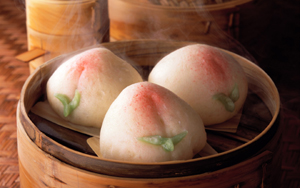 Chinese cuisine has a long history, and is one of the Chinese cultural treasures. It is famous all over the world. Chinese cookery has developed and matured over the centuries, forming a rich cultural content. It is characterized by fine selection of ingredients, precise processing, particular care to the amount of fire, and substantial nourishment. Local flavors and snacks, and special dishes have formed according to regions, local products, climate, historical factors, and eating habits.
Chinese cuisine is classified into four schools (the north, south, east, and west), which are further divided into eight main regional cuisines: Anhui, Guangdong, Fujian, Hunan, Jiangsu, Shandong, Sichuan, and Zhejiang. There are also featured Buddhist and Muslim sub-cuisines within the greater Chinese cuisine, with an emphasis on vegetarian and halal-based diets respectively.
Anhui Cuisine (Hui Cuisine)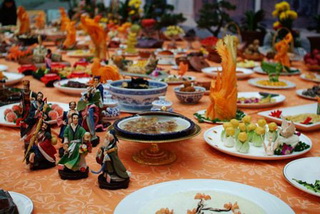 Anhui cuisine or Hui Cuisine is one the Eight Culinary Traditions of China. It is derived from the native cooking styles of the Huangshan Mountains region.
Combining elements of cooking from northern Anhui, south-central Anhui, and the Hui-speaking areas of southern Anhui, Anhui cuisine is known for its use of wild game and herbs, both land and sea, and comparatively unelaborate methods of preparation. Chefs pay more attention to temperature in their cooking and are good at braising and stewing.
Common Anhui Dishes
Stewed soft shell turtle with ham
Steamed stone frog
Bamboo shoots cooked with sausage and dried mushroom
Li Hongzhang Hotchpotch
Guangdong Cuisine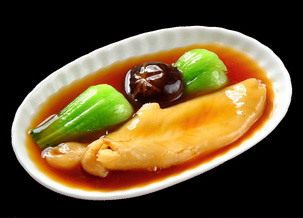 Cantonese cuisine originates from the region around Canton (Guangzhou) in southern China's Guangdong province. Of the various regional styles of Chinese cuisine, Cantonese is the best-known outside China; a "Chinese restaurant" in a Western country will usually serve mostly Cantonese food, or an adaptation thereof. The prominence of Cantonese cuisine outside China is likely due to the disproportionate emigration from this region, as well as the relative accessibility of some Cantonese dishes to foreign palates.

Guangdong cuisine tastes clean, light, crisp and fresh. Its basic techniques include typically steamed, braising, boiled or stir-fried. The main ingredients of this type of Chinese food are seafood, pork, chicken and vegetables, but could include almost anything. It is a very healthy food since it uses minimum of oil.
Common Cantonese Dishes
Dim Sum - (literally touch of heart), small dishes served with tea usually at brunch, e.g. char siu bao, steamed shrimp dumplings, watercress dumplings etc.
Shrimp wonton noodle soup
Dry-fried beef with hefen - Shahe fen stir-fried with fried beef, a common dish
Thick Rice congee with various toppings and deep-fried breadsticks
Stir-fried vegetables - Green leafy vegetables stir-fried in oil and sometimes garlic or ginger, topped with soy or oyster sauce.
Char siu - also called BBQ pork; usually with a red outer coloring
Siew Yok or crispy roast pork- Slices of roast pork skin, fat, and meat cut from a pig that is usually roasted whole
Roast(crispy)young pigeon/squabs Hanyu
Shahe fen - Thin and flat rice noodles
Fujian Cuisine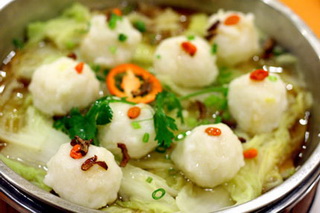 Fujian cuisine is derived from the native cooking style of the province of Fujian, China. Well-known dishes include: oyster omelette, Popiah, yue wan (Fujian fish balls), and ban mien bian ruo (noodles with dumplings). One of the most popular dishes is "Buddha jumps over the wall", a complex dish making use of many ingredients, including shark fin, sea cucumber, abalone, and Shaoxing wine.

There are many eating places around the province that sell these specialities for two yuan, and which are thus known as "two-yuan eateries".




Hunan Cuisine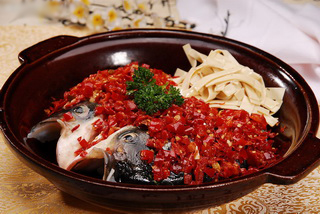 Hunan Cuisine, sometimes called Xiang Cuisine, consists of the cuisines of the Xiangjiang region, Dongting Lake and western Hunan Province, in China. While similar to Szechuan cuisine, Hunan Cuisine is often spicier and contains a larger variety of ingredients. Hunan is known for its liberal use of chilli peppers, shallots and garlic. Many Hunan dishes are characterized by a strongly flavored brown sauce. Some rely on sweetness from ingredients such as honey; sweet and sour sauces are also characteristic of the style.
Hunan cuisine is difficult to precisely characterize, as it has absorbed stylistic elements from all over China. For this reason, the region is sometimes regarded as China's culinary center. Common cooking techniques include stewing, frying, pot-roasting, braising, and smoking. Due to the high agricultural output of the region, ingredients for Hunan dishes are many and varied.
Common Hunan Dishes
Sweet and Sour Chicken
Orange Beef
Crispy Duck
Dongan Chicken
Peppery and Hot Chicken (Hot and Spicy Chicken)
Lotus Seeds in Sugar Candy
Jiangsu Cuisine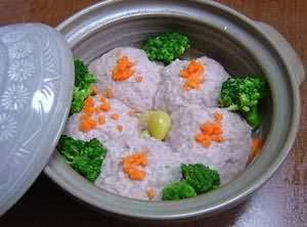 Jiangsu Cuisine, also called Huaiyang Cuisine, is popular in the lower reach of the Yangtze River. Aquatics as the main ingredients, it stresses the freshness of materials. Its carving techniques are delicate, of which the melon carving technique is especially well known. The flavor of Huaiyang Cuisine is light, fresh and sweet and its presentation is delicately elegant.
Common Jiangsu dishes
Stewed Crab with Clear Soup
Long-boiled and Dry-shredded Meat
Duck Triplet
Crystal Meat
Squirrel with Mandarin Fish
Liangxi Crisp Eel
Shandong Cuisine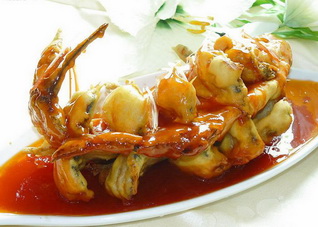 Consisting of Jinan cuisine and Jiaodong cuisine, Shandong cuisine, clear, pure and not greasy, is characterized by its emphasis on aroma, freshness, crispness and tenderness. Shallot and garlic are usually used as seasonings so Shandong dishes usually taste pungent. Soups are given much emphasis in Shandong dishes. Thin soup features clear and fresh while creamy soup looks thick and tastes strong. Jinan cuisine is adept at deep-frying, grilling, frying and stir-frying while Jiaodong division is famous for cooking seafood with fresh and light taste.
Common Shandong dishes
Bird's Nest Soup
the Yellow River Carp in Sweet and Sour sauce
Zhejiang Cuisine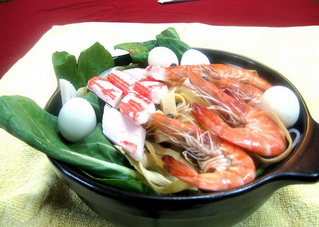 Comprising local cuisines of Hanzhou, Ningbo and Shaoxing, Zhejiang Cuisine wins its reputation for freshness, tenderness, softness, smoothness of its dishes with mellow fragrance. Hangzhou Cuisine is the most famous one among the three.
Common Zhejiang dishes
Sour West Lake Fish
Longjing Shelled Shrimp
Beggar's Chicken





Sichuan Cuisine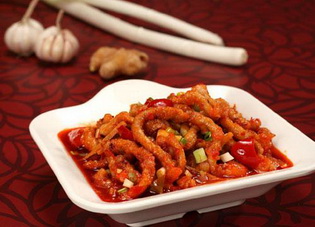 Of the eight major schools of China's culinary art, Sichuan cuisine is perhaps the most popular. It is well-known for its hot and spicy flavouring. Yet the highly distinctive pungency is not its only characteristic. In fact, Sichuan cuisine boasts a variety of flavours and different methods of cooking. A Sichuan dish can be hot, sweet, sour, salty, or tongue-numbing.
Some of the more famous varieties are yuxiang wei, a really tasty fish-flavored sauce that draws heavily on vinegar, soy sauce and mashed garlic and ginger; mala wei, a numbingly spicy sauce that is often prepared with bean curd; yanxun wei, a ôsmoked flavor?sauce, of which the most justifiably famous is that used with smoked duck; and, perhaps most famous of all, the hot and sour sauce (suanla wei). The hot and sour soup, suanla tang, is eaten throughout China and is great on a cold day.
Muslim Cuisine (Halal)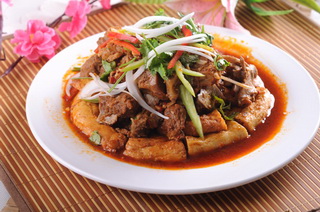 Muslim dishes became popular at the time when Islam spread to China. The most representative dishes include instant-boiled mutton, fried mutton pieces, mutton shashlik, fried rice with mutton, dumplings with fillings of mutton, cakes braised with mutton, and beef-entrails soup.








Medicinal Cuisine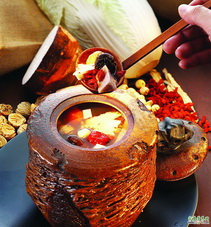 Medicinal cuisine is also called therapeutic food. It is an important part of Chinese cooking. Master Chefs have developed food therapies by combining cookery and traditional Chinese medicine. Famous medicinal dishes include lily and chicken soup, shrimp meat with pearl powder, tianfu carp, duck braised with soy sauce and orange peel, and steamed dumplings stuffed with minced meat and poria coccos, a medicinal plant.





Vegetarian Cuisine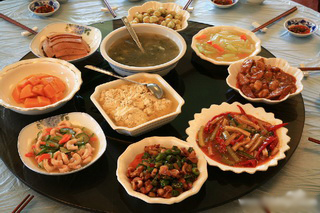 Vegetarian Cuisine became popular in the Song Dynasty (960-1279) and developed further in Ming and Qing (1368-1911) dynasties. It is made of green vegetables, fruits, edible fungi, and bean products, and cooked in vegetable oil. Vegetarian dishes are tasty, nourishing, and highly digestible.