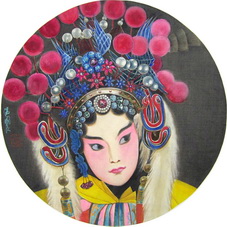 Chinese opera is a comprehensive performing art that combines singing, music, dialogue, acrobatics, martial arts, and pantomime. It represents the culmination and distillation of two thousand years of Chinese civilization. Chinese traditional opera has a long history. As far back as the third century, simple plays were performed as part of court entertainment. In the twelfth century, during the Southern Song Dynasty (1271-1368). The Yuan zaju is a landmark in the development of traditional drama. It took social life as its main subject matter and was very popular at that time. Guan Hanqing is considered the greatest Yuan dramatist. One of his plays, The Wrongs Suffered by Dou E, is still appreciated by today's audiences.
In the later years of the Yuan Dynasty, Yuan zaju was gradually replaced by nanxi, a kind of southern opera. By the middle Ming Dynasty, a combination of Yuan zaju and nanxi, known as poetic drama, apperaed. The Romance of drama, was written by Tang Xianzu who is considered the "Chinese Shakespeare".
During the late Qing Dynasty, a new type of traditional drama-Beijing Opera-came into being. In 1790, some troupes of Auhui Opera went to the Imperial Palace in Beijing to offer birthday congratulations to the emperor and other members of the royal family. They remained in Beijing and performed for the ordinary citizens. Because of their efforts to learn artistic techniques from other local operas and to the taste of the Based on Anhui Opera, Beijing Opera, Beijing Opera took shape as an independent opera form between 1840 and 1860. Having incorporated the merits of many other local dramas, Beijing Opera not only appeals to Chinese audiences but is warmly received by people all over the world.
In the course of the development of the development of Chinese traditional opera, mutual borrowing has taken place among various types of local opera and new forms have appeared continually. Recent surveys show there are 368 different forms of opera throughout the country. Earth variety takes its name from the place where it originated and is popular. The use of local dialects and unique melodies distinguish the different types of opera. Among the best known forms are Beijing Opera, Pingju (popular in the north), Shaoxing opera (popular in Zhejing Province and Shanghai), Yuju (a kind of Henan Opera), Kunqu (Kunshan Opera, popular mainly in Jiangsu Province), Qinqiang (Shaanxi Opera), Chuanju (Sichuan Opera), Hanju (Hubei Opera), and Yueju (Yue Opera).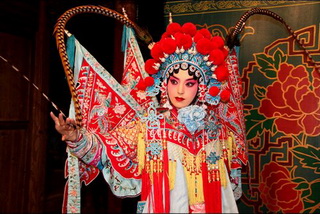 Beijing Opera (Jingju)
Beijing Opera, a major Chinese opera form, enjoys great popularity both at home and abroad. To many foreign theatergoers, it is the most synonymous with China's classical theatre. Beijing Opera is, indeed, the most representative of all Chinese traditional dramatic art forms.

Beijing Opera is a comprehensive performing art that combines music, singing, dialogue, pantomime, acrobatics and martial arts. Hence an actor or actress in Beijing Opera has to meet more requirements than that in other forms of performing art. He or she has to be a performing artist, a singer, and a dancer at the same time. It usually takes the student more than ten years of training to learn singing and acrobatic skills. Thus, it is difficult to be a qualified performer in Beijing Opera.

Symbolism prevails in Beijing Opera. The stage of Beijing Opera knows mo limit in space or time. It can be the setting for any action. The performer's acting is mostly pantomime. Footwork, gestures, and various kinds of body movements can portray and symbolize the actions of opening a door, climbing a hill, going upstairs, or rowing a boat. When a girl is doing needle work, she has neither a needle nor thresd in her hands. When a lady is riding in a carriage, the performer actually has to walk flanked on each side by a flag with coloured tassels represents riding a horse. Four generals and four soldiers represet an army of thousands. In a word, each action of a performer of Beijing Opera is highly symbolic.

Springing in Beijing Opera consists of a score of melodies based on xi pi and sorrowful feelings. Spoken dialogue is done in two forms: yun bai, which sounds like the HUbei and Anhui dialects, and jing bai, which sounds like the Beijing dialect. The former is used by main and serious characters and the latter for minor and frivolous roles.

The character roles in Beijing Opera are divided into four main types according to the sex, age, social status, and profession of the character. Sheng refers to male roles. Shengis subdivided into lao sheng (middle-aged or old men), xiao sheng (young men) and wu sheng (men with maritial skills). Dan refers to female roles. Like sheng, dan is also subdivided into various types. Qing yi is a woman with a strict moral code; hua dan is a vivacious young woman; wu dan is a woman with martial skills and lao dan is an elderly woman. Jing refers to the roles with painted faces. They are usually warriors, heroes, statesmen, or even demons. Jing can be further divided into wen jing (civilian type) and wu jing (warrior type). Chou, or clown, is a comic character and can be recognized at first sight for his special make-up (a patch of white paint on his nose). Chou is subdivided into wen chou (civilian clown) and wu chou (clown with martial skills).

In Beijing Opera facial painting, which is applied to jing roles only, shows the character's age, profession and personality by using different colors. Each colour symbolizes a certain characteristic; red for loyalty and uprightness, black for a rough, stern or honest nature, yellow for rashness and fieriness, white for a cunning and deceitful character, gold and silver for gods and demons. In Beijing Opera, over one thousand painted facial patterns are used. Each pattern lies in his ability to make subtle and interesting changes within the fixed facial pattern.

The costumes in Beijing Opera impress the audience with their bright colors and magnificent embroidery. Some of the costumes used in the present performances have a resemblance to the fashion of the Ming Dynasty (1368-1644). The use of colors indicate different social status -yellow for the imperial family, red for high nobility, red or blue for upright men, white for old officials and black for each role. A student usually wears a blue gown general wears padded armor; an emperor wears a dragon robe. Besides gorgeous clothes and headdresses, jewels girdles for men and hair ornaments for women are also used in Beijing Opera.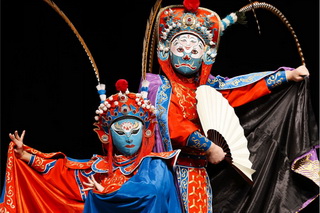 Sichuan Opera (Chuanju)
Sichuan opera is one of the Chinese oldest local operas and is popular in Sichuan province and some regions of Yunnan and Guizhou provinces in Southwestern China. As a stage entertainment, it conveys the idea of time and space to the audience through performances. The opera is characterized by its unique solo singing, refined acting, rich percussion and irresistibly funny comedians; Sichuan opera also displays its unique skills: the changing faces, spitting fire, and rolling light. Numerous Sichuan opera troupes are active throughout the province, both in the countryside and in the cities. The troupes in Chengdu are rate artistically top level.

The face changing, or "bianlian" in Chinese, is an important intangible cultural heritage in China. Only a few masters have grasped this skill. They know how to change Sichuan opera masks in eye-blink period successively. As they flourish their arms and twist their heads, their painted masks change again and again.
By the 1920's, opera masters began using layers of masks made of oiled paper or dried pig bladder. The masters could peel one after another in the blink of an eye. At present the masters use the full face, painted silk mask. They can be worn in layers, and be pulled off one by one.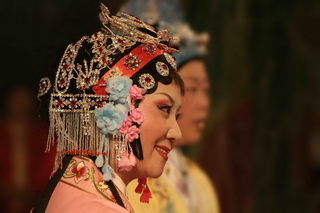 Yue Opera (Yueju)
Yue Opera is a major genre of opera in the south of China, Prevalent in Guangdong and Guangxi, Hong Kong, Macao and overseas Chinese communities in Southeast Asia. Its singing and dialogue are all in Guangzhou dialect. Based on Banghuang Tune, it combines Kun Tune, Yiyang Tune, Guangdong Tune with Guangdong folk music and popular tunes. In addition to Chinese traditional instruments like Er Xian, Gao Hu. San Xian and Yue Qin (the former two are bowed string instruments, the latter two plucked string instruments), its orchestra has adopted Western instruments such as violin , saxophone, cello and double bass. In acting, stage scenery and lighting, it has borrowed from the techniques used in modern drama, Western opera and film and gradually formed its own distinctive features. Originally its characters were divided into ten categories, but later on reduced to six: civil and military male, scholar-lover, major female, secondary female, clown and military male. Included in the repertoire are 5,000-6,000 traditional items. Leading actors and actresses include Ma Shizeng, Hong Xiannu, Luo Pinchao and Bai Jurong.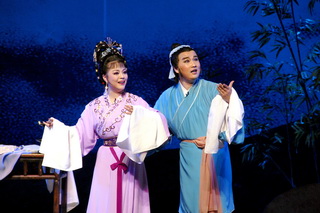 Huangmei Opera
Huangmei Opera, once called 'Huangmei Tune' or 'Caicha Opera', is a local opera genre in Anhui Province, popular in some regions of Anhui, Jiangxi and Hubei Provinces. It is basically derived from the 'Caicha Tune' of Huangmei County which is a form of folk dancing and singing. At first it was noted for 'Liangxiaoxi' (two-role drama) and 'San-xiaoxi' (three-role drama) but then under the influence of Qingyang Tune and Hui Tune it gradually became a theatrical form which could present full-length works . Its tunes still keep the true flavor of folk songs, beautiful and touching and singing while dancing also continues to be a feature of its acting style. After the founding of the People's Republic of China, Huangmei Opera has greatly developed and been warmly welcomed by the audience. Well-known performers are Yan Fengying, Wang Shaofang and Pan Jingli.