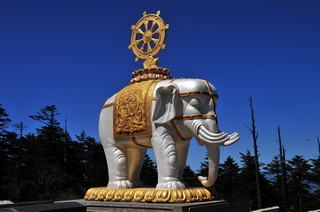 Mount Emei (Emeishan) lies 170km southwest of Chengdu is one of the four mountain ranges in China that Buddhists consider sacred. Together with Leshan Giant Buddha, Mt. Emei was included in the UNESCO world heritage list in 1996. The mountain stretches more than 200 kilometers from south to north. Its main peak, Wanfo Summit, is 3,099 meters above sea level. Since ancient times Emei Mountain has been described as "Beauty Under Heaven". Temples were built as early as the Eastern Han Dynasty (25-220) and Buddhism was introduced to the mountain during the Jin Dynasty. In the Ming and Qing dynasties there were more than 150 temples on it. Mt. Emei draws the most attention for its 154-kilometer spread, attracting tourists since ancient times with phenomenal views all the year round.
Its highest peak, the Wanfo Summit, starts at 500 meters above sea level and rises to 3,099 meters above sea level, giving it a remarkable variation of temperatures. Therefore as the saying goes, four seasons co-exist on one mountain, where the temperature of one place is different from another only five kilometers away. Indeed, in March when flowers bloom at its base, Mount Emei's Peak is still thick with snow. In summer, it is scorching hot at the foot but comfortably cool higher up. The seasons each bring its own stunning beauty to Mount Emei. The azaleas of springtime are brilliantly red, while summer is lush and verdant because of the trees and grass. In autumn, the mountain is decorated by autumnal leave, only to be blanketed in winter by fresh white snowfall. Ancient temples, trees and mountain slopes are all covered with snow. The snow can absolutely dazzle tourists. Bitter cold hardens it into ice, turning the trees into "ice flowers".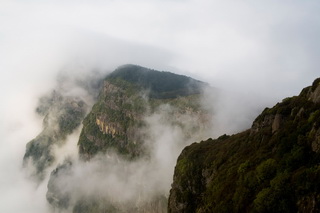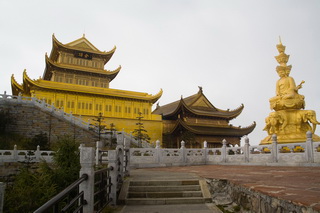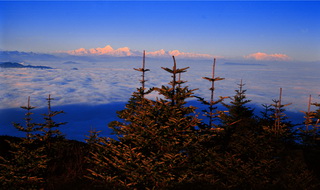 Mt. Emei is a sacred Buddhist site, and has a Buddhist history of over 1,500 years. It is said that during the 15th century, there were as many as 1,000 monks living on Mt. Emei. According to the records inscribed on a number of stone tablets, an eminent Indian monk came to spread the Buddhist doctrine as early as the 4th century. Later, Emperor Mingdi of the Eastern Han Dynasty ordered that Puguang Hall on the mountain be expanded into a temple, setting a precedent for the imperial court to construct temples on Mt. Emei. From that time onwards, emperors of succeeding dynasties all endowed celebrated temples and eminent monks on the mountain with their gifts. Today, it still houses numerous relics of poems, couplets (written on scrolls and hung on the pillars of a hall), and inscriptions bestowed by emperors and scholars of ancient times. Famous spots on the mountain include The Baoguo Temple, The Wannian Temple, Elephant's Bathing Pool, Golden Summit, and The Fuhu temple etc.